Conforming Comfort Lifter Draw Incont Sheet 36x60l

model: 1129010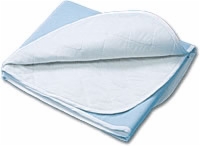 Click to enlarge

Conforming Comfort™ Lifter Draw, Incontinence Sheet
Provides comfort, and helps to protect patients from shearing and friction when repositioning or transferring is necessary
Constructed of a trilaminate material which consists of three special layers of material: the soft quilted top layer is gentle and soft to the touch for fragile skin; the middle layer whisks away excess moisture from the patient and the third bottom and bottom layer is waterproof to keep bed linen dry
This material and product is great for those facilities not using briefs on their patients at night
Can be used on patients/residents up to 500 lbs.
Stays soft, and will not crack or peel.
26"W X 60"L



Product Reviews
Drier, more comfortable sleep environment.

Jan 25, 2011 11:28 PM

Patty the Family Caregiver

from

Arnold, MO

would recommend this to a friend.

A Little About Myself

Fulltime caregiver for elderly mother.

Pros

Fully Covers hospital bed. Easy to grab when repositioning patient. Soft. Wicks away wetness. Mom does not sweat like she does with plastic-sheet-backed pads. She sleeps more comfortably. Machine Washes well. I add baking soda to wash cycle. I notice no "carry-over" urine odor.

Cons
Service & Delivery

Good.

Seems to help patient keep a more comfortable body temperature (no sweating)than plastic backed pads.