Medipore 2" X 10 Yd, Soft Cloth Surgical Tape, Each Roll

model: 2962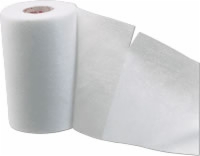 Click to enlarge

Soft, gentle, breathable, conformable tape is easy to use on the skin
Easy-tear, perforated rolls with no paper liner
Hypoallergenic
Latex-free
2" x 10 yd. roll
ea



Product Reviews
Medipore tape

Nov 15, 2011 7:59 AM

Ann

from

Maryland

would recommend this to a friend.

A Little About Myself
Pros
Cons

None

Service & Delivery

Fast delivery.

Lives up to promise about being for sensitive skin. Husband's skin is very sensitive and this is the only tape that does not make his skin raw and red.