Oxygen Supply Tubing 14' Each

model: 355B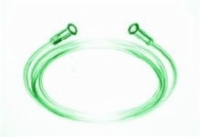 Click to enlarge

Your Price

$2.33

Regular Price

$3.34

*AK and HI residents please call for shipping charges.
14'
Use for the interconnection of various oxygen or air delivery apparatus which uses 5 to 7 mm male fittings
Star Lumen tubing kink and crush resistant
Individually wrapped disposable



Product Reviews
Works fine

Apr 11, 2013 6:52 AM

nosehose guy

from

Denham Springs, La.

would recommend this to a friend.

A Little About Myself

COPD patient for 12 years

Pros

Green hose, which I use to extend my 50# oxygen hose, is a lot easier to see so is easier to avoid falling over.

Cons

The hose is not as 'heavy duty' as my longer hose, and tangles more easily, but those things are not extremely important.

Service & Delivery

The customer service folks went out of their way to correct the first incorrect shipment. They cheerfully sent the correct hose and were prompt in their corrective action.

I like the hose, as much for the service of the seller as the hose itself.