Need an affordable solution for transferring a patient or loved one into and out of chairs, beds, and wheelchairs? Prefer a powered model that will do the heavy work for you? US Medical Supplies offers patient lift solutions for every situation! Our selection includes pool lifts and air cushion lifts too! If you'd like assistance choosing the right lift for your needs, call our experts now at 1 (800) 251-8177!

Browse our Patient Lifts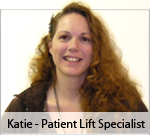 Meet the Expert - Katie, patient lift specialist and expert advisor.

Transferring mobility-impaired people in and out of beds, swimming pools, and wheelchairs is a delicate task. Half of the equation is a knowledgeable, compassionate, and experienced caregiver, but having the right equipment for the job is equally important. My experiences in chiropractic treatment and extensive work with matching patient lifts to customers have given me unique insight on the matter, and I am confident that I can find the perfect patient lift for you! Learn more about my background as a patient lift expert, or call me now at 1 (800) 251-8177 to begin your search!