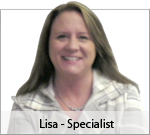 Meet the Expert - Lisa, wheelchair specialist and expert advisor.

Wheelchairs are important investments for mobility-impaired people. My job is to make certain that your investment is a worthwhile one that meets all of your needs and lasts you for years. I have extensive experience dealing with wheelchair users who have very specific day-to-day needs, and I am certain that my expertise will benefit you! Learn a little bit more about my background as a wheelchair expert, or call me today at 1(800)251-7250!

Reclining wheelchairs allow you to lower the chair's back to varying angles depending on the model - some models will recline back to a fully flat 180 degrees. This can be important for people with reduced bowel and bladder function as well as for alleviating orthostatic hypertension and promoting better circulation in your lower extremities. If your doctor says you need a reclining wheelchair, call our wheelchair specialist first at 1 (855) 207-9811 and take advantage of our Low Price Guarantee!