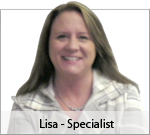 Meet the Expert - Lisa, wheelchair specialist and expert advisor.

Wheelchairs are important investments for mobility-impaired people. My job is to make certain that your investment is a worthwhile one that meets all of your needs and lasts you for years. I have extensive experience dealing with wheelchair users who have very specific day-to-day needs, and I am certain that my expertise will benefit you! Learn a little bit more about my background as a wheelchair expert, or call me today at 1(800)251-7250!

Sports wheelchairs are the perfect mobility solution for our customers who are active and on the go! Whether you're a hand cyclist or a wheelchair basketball or tennis enthusiast, a pro wheelchair athlete or a novice just starting a wheelchair athletics regimen, our sports wheelchair models will keep you running smoothly and quickly whether you're on the court, in the paint, or off-road! Call our experts now at 1(855)207-9811 to experience the ultimate in sports wheelchairs!