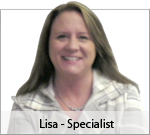 Meet the Expert - Lisa, wheelchair specialist and expert advisor.

Wheelchairs are important investments for mobility-impaired people. My job is to make certain that your investment is a worthwhile one that meets all of your needs and lasts you for years. I have extensive experience dealing with wheelchair users who have very specific day-to-day needs, and I am certain that my expertise will benefit you! Learn a little bit more about my background as a wheelchair expert, or call me today at 1(800)251-7250!

Transport wheelchairs, also known as companion or rollabout wheelchairs, require the assistance of a caretaker - users cannot propel the wheelchair by themselves. These wheelchairs are equipped with four small wheels, lacking the large wheels found on standard manual wheelchairs, but in most other respects are similar to standard manual wheelchair models. To order your transport wheelchair, call our experts now at 1 (800) 251-7250.