What Does Medicare Reimburse Enrollees For?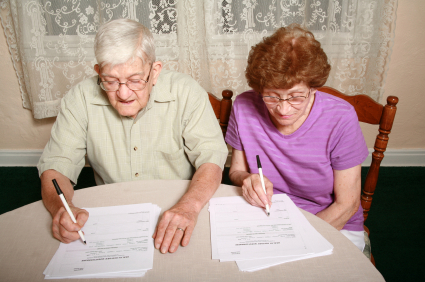 Medicare is government sponsored insurance for anyone who is age 65 or older, or is disabled. Medicare is divided into 3 different parts. Part A is what covers inpatient hospital and nursing home care. This coverage begins to pay the day you are admitted into the hospital or nursing home.
Medicare Part D is the part of the insurance that covers prescription medications. This insurance is purchased separately and can be used at a retail pharmacy, or, in some cases, through mail order to pay for medications ordered from your doctor.
Medicare Part B is the medical part of the insurance. This is the insurance that will cover regular visits to your family doctor, or a medical specialist. Ambulance services, therapy, mental health care and durable medical equipment are also covered under this plan.
Items that fall under the durable medical equipment category include hospital beds, wheelchairs and walkers. Most people who qualify for reimbursement for these expenses must be unable to function within their home without the aid of the requested item. Once a medical need has been determined, a doctor must write an order for the item, and in some cases, fill out a form called a Certificate of Medical Necessity.
Another item that is eligible for Medicare reimbursement is a liftchair. This is a chair that will rise up to assist the user in standing. The requirements for reimbursement for a lifting chair include not being able to stand from a sitting position in a regular chair. The user must also be able to stand without assistance once placed in a standing position.
Lifting chairs come in different styles, colors and sizes. They can be used like a recliner to watch television, read or take a nap. When the user is ready to stand, they push an electronic button. The lifting chair will then begin to slowly rise until the user is in an upright position with feet on the floor. This gives the user the support needed to stand without strain to the back, hips or knees. Returning to a sitting position is just as easy as the liftchair will slowly lower the user down in the same manner.
Liftchairs are perfect for someone recovering from surgery or any medical condition which restricts standing or sitting movement. They can give the user more freedom and ability to function on their own.
To qualify for reimbursement through Medicare liftchairs must be purchased by the Medicare enrollee. A doctor must submit an order for the lifting chair along with a Certificate of Medical Necessity. Medicare will then reimburse based on the type of coverage the enrollee has at the time.