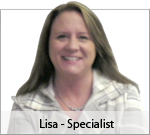 Meet the Expert - Lisa, wheelchair specialist and expert advisor.

Wheelchairs are important investments for mobility-impaired people. My job is to make certain that your investment is a worthwhile one that meets all of your needs and lasts you for years. I have extensive experience dealing with wheelchair users who have very specific day-to-day needs, and I am certain that my expertise will benefit you! Learn a little bit more about my background as a wheelchair expert, or call me today at 1(800)251-7250!

Standing wheelchairs use an electrical lift system to raise the user to an upright position, and the onboard straps keep you comfortably and securely in place. These power standing wheelchairs are perfect for people who have medical conditions which may be exacerbated by staying seated for extended periods of time. We carry both powered and manually-operated stand-up wheelchairs. Call 1 (855) 207-9811 today to speak with our mobility specialists and find the model that best suits your needs!