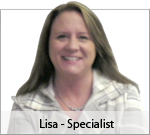 Meet the Expert - Lisa, wheelchair specialist and expert advisor.

Wheelchairs are important investments for mobility-impaired people. My job is to make certain that your investment is a worthwhile one that meets all of your needs and lasts you for years. I have extensive experience dealing with wheelchair users who have very specific day-to-day needs, and I am certain that my expertise will benefit you! Learn a little bit more about my background as a wheelchair expert, or call me today at 1(800)251-7250!

Tilt wheelchairs are designed to redistribute the pressure of your body weight, reducing the risk of pressure sores, preventing sheer and friction, and increasing your comfort while seated. The foot rest of a tilt wheelchair elevates and extends when you recline the back rest for better total body support. If your doctor has recommended a tilt wheelchair for your medical needs, call our wheelchair experts at 1(855)207-9811 today and get the lowest price on a new wheelchair - guaranteed.