All Sil Foly Cath Stl 5cc-16fr

model: 165816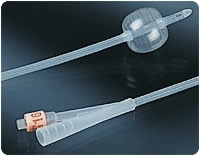 Click to enlarge

Your Price

$17.14

*Non-Contiguous U.S. States & Territories - please call for shipping charges.
100% silicone construction
For single-use only; sterile
Short-length, round tip with two opposing eyes
5 cc, 16 fr
ea



Product Reviews
Worth EVERY Penny!!!

Mar 11, 2012 11:15 PM

MaryanneAZ

from

United States

would recommend this to a friend.

A Little About Myself

Bedridden Disabled.

Pros

Ease of Insertion. No bending or kinking. Able to Visualize Easily. No latex.

Cons

Price

Service & Delivery

Excellent service and fair delivery time. Why is it that products can go to China faster than anywhere in the U.S.?

These caths are very pricey, but worth every cent and then some in performance. They glide in quickly and easily. This is a real plus if you are a patient who is a difficult cath placement. In seconds, a new cath is in place and functioning well. There is no wastage with several attempts and the corresponding discarded caths. The health provider can immediately see the flash and does not have to struggle with guiding the cath in place. If one must use indwelling caths, this product is primo. The Infection Control model of this cath is the only other product I will now use. I even carry my own cath to the hospital so they do not put their bargain brand caths in me, and I do not wind up being repeatedly gouged trying to place the inferior products. I never thought there could be an appreciable difference between caths, but this model literally glides in place with no trauma and works well.
Best Catheter On The Market

Feb 22, 2012 12:22 AM

MaryanneAZ

from

Phoenix, AZ

would recommend this to a friend.

A Little About Myself

Bedridden Disabled

Pros

Clear from end to end and super easy to insert. Very comfortable.

Cons

Price

Service & Delivery

I was amazed at the speed of delivery. The price was the best of any online seller.

I read on a website that a paralyzed woman thought these caths were amazing. Ha! After much distress, difficult insertions, infections, sediment, bent foleys and every problem under the sun, I was desperate. I decided to try one of these very pricey caths. My RN inserted it in 3 seconds flat with one try. We typically waste at least one foley per insertion. I never felt a thing. It also flowed much better than any cath I have ever had placed. My nurses were arguing with my doctor that I needed a supra-pubic placed. After discovering this cath, I then had to track down a best price. I found it here.