8 Fr Rob-nel Pvc Catheter, 16", Each

model: 492017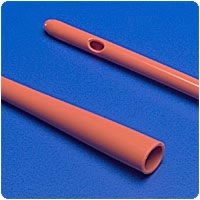 Click to enlarge

Your Price

$1.16

*Non-Contiguous U.S. States & Territories - please call for shipping charges.
Sterile, 16?, 100% latex-free catheters are radiopaque and made of a thermosensitive, poly/vinyl chloride (PVC) material
Features include a smooth, rounded tip; two staggered eyes; and an integral, tapered funnel end
For single use only
8 fr



Product Reviews
Item is exactly as described

Dec 7, 2012 4:16 AM

Barefoot Keith

from

Teh interwebs

would recommend this to a friend.

A Little About Myself
Pros
Cons
Service & Delivery

I think U.S. Medical handled my order with care in a timely fashion. The catheters were shipped in a disproportionately large box, but then I realized it was so that the catheters could lay flat. That might be useful information for someone who would use these in a conventional application.

I might not be the best reviewer for this item. For one, these are the first catheters I've purchased - I really had no baseline experience. Secondly, I'm using it for sutra neti - not exactly it's intended purpose. I bought this particular item because I was looking for a latex-free catheter that was about 15 inches long with a French size of 8. Since I sterilize mine before each use, I noticed they become much more pliable when heat is applied. You can get a little more flex out of them after boiling. The biggest problem I have with them is the funnel; it's too big for my application, namely pulling them through the nasal passages after flossing the velum. The ideal configuration would have the inner diameter of the funnel equal the outer diameter of the tip. This would allow me to connect two catheters together to floss the septum. All in all, I'm satisfied with the product. It is exactly as described. Though, next time I will look for one with a narrower funnel.