call for special offers
& product assistance
$1,495.00

*Non-Continental U.S. States & Territories - please call for shipping charges.
Product Description
Designed with the end-user and their caregivers in mind, the LiteRider Envy can be disassembled in just seconds to easily fit in the trunk of virtually any car.
The heaviest piece weighs only 35 lbs to easily be lifted into the back of a vehicle. The LiteRider Envy offers a comfortable ride all day long, with a stadium-style seat and a generous footplate, plus bigger 22 amp hour batteries so you can go further than ever before!
When you're looking for a compact power chair that's easy to transport and fun to drive, look no further than the Golden LiteRider Envy!
Product Specifications
| | |
| --- | --- |
| Weight Capacity | 300 lb |
| Overall Length | 33" |
| Overall Width | 22.5" |
| Range | 15.5 mi |
| Top Speed | 3.5 mph |
| Turning Radius | 26" |
| Ground Clearance | 2.5" |
| Weight, Total | 123 lb |
| Weight, Base | 36 lb |
| Weight, Seat | 23 lb |
| Weight, Batteries | 27 lb |
| Minimum Seat Height | 20.5" |
| Maximum Seat Height | 21.5" |
| Drive Wheels | 9" Flat Free |
| Caster Wheels | 6" |
| Controller Type | PG VR-2 50 Amp |
| Charger Type | Off Board |
| Battery Type | Battery Pack - 22 Amp x 2 |
How To Measure For A Power Wheelchair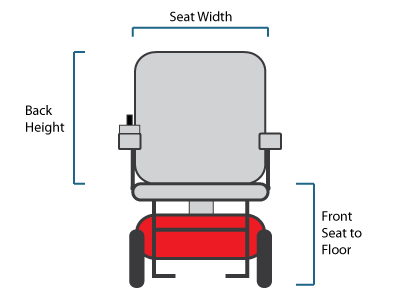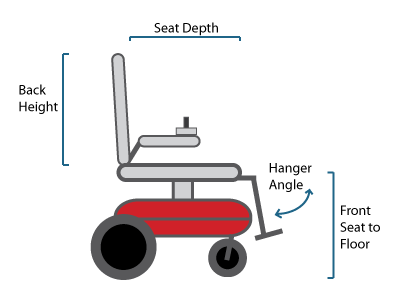 Seat Width: Measure the widest point of your body between the knees and hips. Add at least one inch- to this measurement for some extra breathing room. If you typically wear bulky or heavy clothing, such as during outdoor use in winter, you may wish to add two inches to this measurement to give yourself adequate room to move.
Back Height: This measurement will determine the distance from the seat base to the top of the wheelchair's seat back. Typically, you'll want to measure from the most posterior point of your body to the center point between your shoulder blades. Some users may prefer a higher back for added support, but remember that the higher the back of the chair is, the less room you'll have to rotate your upper body while seated.
Front Seat to Floor: Measure your leg from the back of your knee to the sole of your foot. Unless you are choosing a foot-propelled wheelchair, you will want to add two inches to this measurement to give yourself plenty of clearance for a footrest.
Seat Depth: Measure from the most posterior point of your body to the interior of your knee, deducting two inches from the total. You may require a greater amount of leg overhang to lift your legs during use; if so, consult your rehabilitation professional for guidance on adjusting your measurements accordingly, or speak with one of our power wheelchair specialists by dialing 1 (800) 794-9813 to get the right fit.
Hanger Angle: This measurement specifies how far your toes will extend from your body when seated, and is measured horizontally. The tighter your hanger angle, the less space you'll need to turn your wheelchair around. The flexibility of your legs and knees may also impact the hanger angle you will want to choose. Most wheelchairs have a hanger angle of about 70 degrees, and the farthest hanger angle available on any wheelchair is 60 degrees. Pediatric chairs have a hanger angle of 90 degrees to accommodate the shorter leg length of child users. A hanger angle is difficult for a wheelchair user to measure on their own, so we highly recommend calling one of our power wheelchair experts at 1 (800) 794-9813 to help you find a chair with the optimal hanger angle for your needs.
Customer Reviews

Need a fe changes.
Oct 13, 2018 8:24 PM
George the Tecnician.

from

Georgia

would recommend this to a friend.
A Little About Myself
Retired and severely handicapped.
Pros
Easy to use, especially in a home that has normal-size doors.
Cons
The vinyl seat and seat back are stretched as tight as a drum head, hence seam splitting has occurred on the seat as well as the backrest. I am only 118 pounds. A little give in the material would go a long way to resolving this problem.
Service & Delivery
I have had no need for service, and the delivery was fine.
The electronics are fine, as is the mechanical operation. The joystick takes a little getting used to. We had to touch up a few doorways at first.
2 of 3 people found this review helpful

I love my chair!

Feb 19, 2017 10:57 AM

Mia Bee

from

Northeast Pa

would recommend this to a friend.

A Little About Myself

Pros

Long Battery Life Comfortable Sturdy Easy to travel with Airline Compliant

Cons

Cup holder keeps coming off.

Service & Delivery

I did not order from this company.

I love my chair. I have taken it out of the country at least 3 times. Airline flights are a breeze. I drive right up to the door of the plane and board, and they have it there waiting for me upon landing. It is nice and light and very easy for travel.

US Medical Supplies

replies:

Glad to hear you're loving the Golden PTC!

8 of 9 people found this review helpful

Not worth the purchase - Customer support difficult to receive

Aug 28, 2013 9:29 AM

Frustrated consumer

from

Maryland

would not recommend this to a friend.

A Little About Myself

Someone in need of wheel chair for transportation.

Pros

Light weight, looks good, not too expensive.

Cons

Uncomfortable and unsafe.

Service & Delivery

When I purchased the chair on July 1, I was told that delivery would be within two weeks. After several calls and six weeks, I was told that it was back ordered and received it approximately seven weeks after purchase. No lap belt and not operative. I called the service department and received the run around regarding who I should call for service repairs. I am happy to say that after contacting Jeff at 1-800-624-6374, someone was dispatched who completed the repairs so that I could use the chair.

The single foot rest is uncomfortable. The iron bars in the seat produces whelps on my legs that eventually become painful. This happened the two times that I was able to use the chair. I purchased a wheelchair seat that I hope will provide a cushion for my bottom and my thighs. I have yet to receive the lap belt that was included in the purchase invoice. This is a dangerous situation. I will not recommend it to others.

163 of 181 people found this review helpful

alan