EWheels EW-18 Mobility Scooter

model: EW-18
Click to enlarge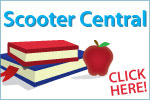 Call
(800) 794-9240
to learn more about our special offers.
Your Price

$999.00

Regular Price

*Non-Contiguous U.S. States & Territories - please call for shipping charges.

Warranty Info

Click Here

The EW-18 Stand-N-Ride mobility scooter offers a smooth ride whether you prefer to sit or stand. The EW-18 can help you maneuver in virtually any setting and offers silent, no emission transportation. Call us today to learn more about how an EW-18 can help increase your mobility!
| | |
| --- | --- |
| Weight Capacity | 300 lb |
| Overall Length | 41" |
| Overall Width | 27" |
| Seat Depth | 10" |
| Seat Width | 14.5" |
| Per-Charge Range, Maximum | 25 mi |
| Maximum Speed | 15 mph |
| Turning Radius | 22" |
| Weight, with batteries | 78 lb |
| Front Wheel Diameter | 16" |
| Rear Wheel Diameter | 4" |
| Ground Clearance | 4.25" |
| Tire Type | Non-marking, Pneumatic |
| Motor Type | 400 Watt Brushless Hub Motor |
| Brake Type | Drum Brake |
| Controller Type | 400 Watt |
| Battery Type | 36 Volt, 10 AH, SLA |
| Battery Charger | Smart Charger |
| Goes In Reverse | Yes |
| Freewheel Mode | No |
| Tiller Style | Delta Foldable |
Shipping Info
Shipping Weight
Shipping Length
Shipping Width
Shipping Height



Product Reviews
very nice transport scooter

Jul 24, 2017 6:19 PM

busyguy

from

Idaho

would recommend this to a friend.

A Little About Myself

retired active 59 year old

Pros

360 degree turning ability no performance problems, works great every time

Cons

none

Service & Delivery

pefect

great scooter I recommend it to all my friends

2 of 2 people found this review helpful
very usefull for me

Jul 6, 2016 7:55 PM

Abe

from

Alabama @ wisconson

would recommend this to a friend.

A Little About Myself

83 and semi mobile

Pros

Gets me around at Airshows @ Car shows. Speed when needed. Always a place to sit. Minimum maintenance so far. {3 yrs]

Cons

needs hard surfaces mostly and you need to lean slightly forward sometimes to get going. A little hard to load sometimes if help isn't around. Having some trouble with a bearing above the yolk so will replace it.

Service & Delivery

Bought online and had delivered to a airshow I was going to and it was there and easy to get going.

Pretty much as I expected and I like it.

3 of 4 people found this review helpful
This scooter did not work as a mobility scooter for me.

Jun 1, 2016 2:26 PM

Chip

from

Yuma, Arizona

would not recommend this to a friend.

A Little About Myself

Amputee

Pros

Looks really nice, all ready to go right out of the box, fun to ride, and it's fast. Seems to have pretty good range also. Makes a great toy.

Cons

No automatic brake to hold the scooter in place when not moving or to stop the scooter when the throttle is released. Very wide. Front wheel spins, looses traction. It's also heavy and awkward to load into a vehicle.

Service & Delivery

I didn't ask for service. Delivery was slower than I have experienced with the other brands of scooters I have purchased. It took 7 business days, and the others have been delivered in 2-4 business days.

I was not able to use this scooter as a mobility device. It rolls on any incline when the motor is not engaged, making it difficult to hold a door open and move through the doorway at the same time. The seat post is mounted behind the rear axle, so the front is light, allowing the front wheel (powered wheel) to spin instead of taking hold and moving the scooter. It didn't have enough traction and just slipped. It was better on carpet, but on smooth surfaces (i.e., tile and concrete) it would spin until enough momentum took hold, no mater how easy the throttle was engaged. Because the tiller doesn't lock, it was very difficult/awkward to load and unload from both my SUV and Pickup. There didn't seem to be a good place to grab it when lifting it and it was a bit heavy. I am used to my scooters breaking down some before I load them into my car. It makes a great toy for my kids, but not a good scooter for someone who is mobility impaired.

10 of 12 people found this review helpful