Patient Lift Specialist Spotlight: Meet Katie Ryther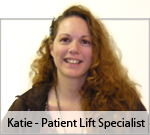 Katie Ryther has 8 years of experience working as a chiropractic assistant and office manager, giving her ample knowledge of how to handle both the business aspects and the physical therapy duties of chiropractic medicine. She has been trained in processing x-ray films, trigger point massage, neuromuscular re-education, transverse friction, and ultrasound therapy. With an additional 8 years of experience selling quality durable medical equipment that included hands on training on each product she sold, Katie has been able to incorporate her years of medical training into her process for determining which patient lift will suit the customer's needs the best.
Katie's experience with chiropractic medicine and durable medical equipment makes her a valuable member of our team, and we're sure she can assist you with your needs as well! To speak with Katie about which of our patient lifts will be best for the job you need done, call 1 (800) 251-8177 today.