Wheelchair Expert Spotlight: Meet Lisa Ellis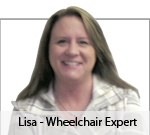 Lisa Ellis was previously employed by Sunrise Medical as a specialist for their Quickie brand wheelchairs for over 8 years, where she assisted customers in ordering custom-built manual wheelchairs. She handled all of Sunrise's equipment sales to high profile professional wheelchair athletes, including tennis and basketball players. Lisa specializes in internet sales of custom wheelchairs and cushions, with over 18 years of experience in customizing wheelchair builds to specific customer needs.
We're extremely pleased to have Lisa as a member of the US Medical Supplies product specialist team, and we encourage you to call Lisa at 1 (855) 207-9811 to place your wheelchair order with the knowledge and assurance that you will be in the very best of hands!