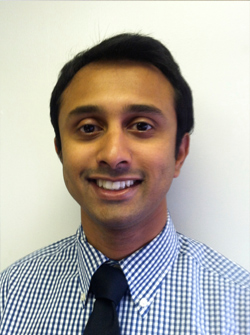 Vikas Kemp Jayadeva
University of Michigan
Major: Doctor of Medicine
The first thing I noticed about Teair, aside from him being a 200 pound seventh grader, was the silver St. Jude's necklace that snugly hugged his neck. It seemed appropriate that the patron saint of lost causes stood vigil as Teair began his daily tirade that no one in the school cared what happened to him. But after two years as his science teacher, Teair came to understand just how deeply I cared about his education and his future. So when he was diagnosed with Type 2 Diabetes a year ago, he e-mailed me because he, "just thought [I'd] want to know." Although initially devastated, gradually my sadness has been consumed by guilt. Every day I warned him about his breakfast of junk food and soda and encouraged him to do more than sit against a tree and play cards during recess. But was my lack of further action as his teacher acceptable? The simple answer is no. Born of this admission is a call to action and a life mission; eliminating the health obstacles that impede children from achieving an excellent education.
During my two years with Teach For America, some of the most vexing problems that I encountered were the persistent health obstacles that kept my students from excelling in school. My experience in the classroom, coupled with my graduate work in education, has taught me that although the achievement gap has many causes, one way to conceptualize the education gap is as the result of a medical gap. Issues of public health, such as poor nutrition, undiagnosed health conditions and at-risk sexual behavior, combine to prevent low-income children from doing well in school and consequently hinder their ability to acquire sufficient human capital to advance academically, professionally and socially.
Many of my students came to school angry, tired and weak, ignorant of how their health affected their attitude towards school and capacity to learn. Without acknowledging the impact of health on educational outcomes, current educational discourse implicitly suggests that these health issues are unfortunate inevitablities of growing up poor. Lost in the rhetoric are urban youth, many of whom view themselves as lost causes, hopelessly impeded by their circumstances.
After becoming a teacher, I realize how lucky I was to have caring teachers and parents advocating for me. Consequently, I want to ensure that all children, especially those from low-income backgrounds, have an advocate for their education, health and future.
During my second year of teaching I began addressing the health concerns among my students by instructing them on health, nutrition and hygiene, while successfully lobbying my school administration to establish a free breakfast program for students. I integrated these seminars into my curriculum to empower my students with the efficacy to prevent future health problems. Although I was successful in altering future behavior, I still found that I was unable to address existing health issues among individual students through just teaching. I am still haunted by memories of students like Medina, who frequently had to put her head down because of the pain from an earache and Damon, who was designated a Special Education student until he got glasses. The countless eye irritations, earaches and miscellaneous health problems have a very tangible and damaging impact on classroom learning and cannot be solved by classroom interventions alone.
Consequently, I have decided to become a doctor and treat low-income children in a clinical setting. In each of my future patients I will always see the faces of my students and be driven to treat them capably and compassionately because I know the impact chronic ailments can have on their potential. In the future I hope to expand my medical practice and increase healthcare access for disadvantaged youth by establishing school-based health clinics. My current familiarity with health problems among urban children is limited to my anecdotal experience. Equipped with a better understanding of disease, I hope to use my medical training to recognize, treat and minimize the ailments that afflict underserved children, so that all children have the ability to achieve an excellent education.
---
About Vikas
Hometown: Pikesville, MD
Member of: Galens Medical Society, Coordinator for the Curriculum on Health Disparities and the Underserved, Inner Tube Water Polo Team
Interests/hobbies: Tennis, running, reading, cooking
I would like to thank my family and my professors, both past and present, who have taught me the importance of empathy, compassion and service.
---