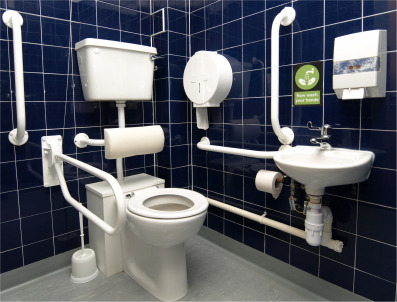 Bathroom accessibility is an issue that most people spend very little time thinking about - until they develop a mobility impairment as a result of a health condition or aging. At that point, changes become nearly unavoidable. When considering a bathroom modification to make it accessible for a disabled person, you'll need to make some decisions on how extensively you wish to remodel and whether the changes you implement will be permanent or temporary.
There are many reasons why you might prefer a temporary bathroom modification over a permanent mobility solution. You may live in a rented house or apartment with a lease that restricts how extensively you can change the property, for example. Or you or a loved one may be recovering from invasive surgery or a stroke, which only requires you to have mobility aids for the duration of your physical therapy rehabilitation program.
In such an event, you might want to consider bath lifts and toilet seat lifts as an option. These devices are unobtrusive and easily removable, requiring virtually no permanent installation process that could violate your lease terms. Handheld shower heads are also easy to install and replace, and, in conjunction with a bath lift or shower chair, offer disabled people the freedom to bathe themselves without risking a fall. You can also install grab bars that hold a considerable amount of weight without requiring drilling into dry wall or tile; such bars typically use a plastic-based adhesive which can be removed with a straight razor if you ever move out of the home, or if you need to remove the bar for some other reason.
Sturdier grab bars, raised toilets, low-height sinks and cabinets, and walk in baths, however, are typically permanent modifications that will require extensive remodeling of an existing bath. Unfortunately, for many mobility-impaired people with long-term disabilities that are unlikely to reverse, these modifications are a necessity. Walk in baths in particular are best installed by contractors who have extensive prior experience with such devices, and collaboration with the retailer is often necessary to ensure that the tub is installed properly and is safe to use. A low step in height, built in grab bars, and anti-slip surfaces make walk in baths ideal for users with limited mobility who wish to continue bathing independently, as well as for caretakers of disabled people who have have physical limitations of their own. If this is an option that interests you, our bath safety specialists have extensive experience working with contractors to get the job done right and will be more than happy to assist you with the process. For additional information on choosing and installing a walk in bath, please contact us today by dialing 1 (800) 346-1821.