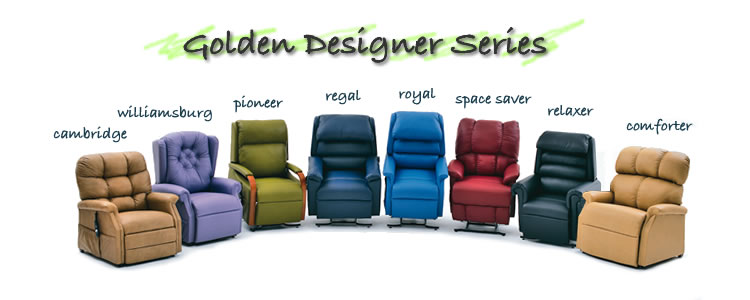 Style meets Functionality with the Golden Designer Lift Chair series. The Golden Designer series' goal is to be a chair that looks good in any home with the ability to ease the process of standing. The excellent craftsmanship of a Golden lift chair has been teamed up with the luxurious Brisa® fabric line. The fabric's unique ventilation system enables it to breath which keeps it cool. This is perfect for lift chairs that will need to be in use for long periods of time. It has the feel of genuine leather as well as its ease of cleaning.

Luxury is two steps away: choose the lift chair model that is right for you and choose the Brisa color that best matches your decor. If you have any questions, please contact one of our liftchair experts today at 1-800-790-5104.
Note: We are revamping the Golden Designer lift chair lineup.
You can check back soon or view our Golden Lift Chair selections, which can be upgraded to Designer Fabrics