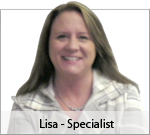 Meet the Expert - Lisa, wheelchair specialist and expert advisor.

Wheelchairs are important investments for mobility-impaired people. My job is to make certain that your investment is a worthwhile one that meets all of your needs and lasts you for years. I have extensive experience dealing with wheelchair users who have very specific day-to-day needs, and I am certain that my expertise will benefit you! Learn a little bit more about my background as a wheelchair expert, or call me today at 1(800)251-7250!

Wheelchair cushions and wheelchair backs aren't just luxury items for your comfort - they may be medically necessary to improve your circulation or spinal alignment or to reduce the risk of pressure sores, depending upon your condition. If your doctor has recommended that you add a wheelchair back or wheelchair cushion to your mobility aid, begin your search here. We have highly experienced wheelchair experts on call that can match you to the right cushion for your unique needs - simply call us today at 1 (855) 207-9811!