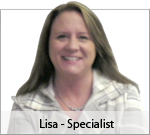 Meet the Expert - Lisa, wheelchair specialist and expert advisor.

Wheelchairs are important investments for mobility-impaired people. My job is to make certain that your investment is a worthwhile one that meets all of your needs and lasts you for years. I have extensive experience dealing with wheelchair users who have very specific day-to-day needs, and I am certain that my expertise will benefit you! Learn a little bit more about my background as a wheelchair expert, or call me today at 1(800)251-7250!

Shower wheelchairs and rolling shower chairs are waterproofed for use in a shower and equipped with special seats to offer users easier access to a toilet. We offer economy and deluxe models, so you can choose a shower wheelchair that's right for your budget and needs, whether it's short-term rehab or long-term dependability. Call our wheelchair experts at 1 (855) 207-9811 today to learn more about our selection of rehab shower chairs.