AmeriGlide Hercules II 600 - Residential Reconditioned

model: AMGHERC2-RCNR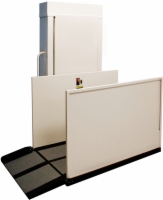 Click to enlarge

Call
(800) 647-0916
for the absolute lowest price on this product.
| | |
| --- | --- |
| Your Price | $3,439.00 |
| Regular Price | $4,589.00 |
| Additional Shipping? | Yes |
A Reconditioned AmeriGlide Hercules II 600 Vertical Platform Lift offers an option for residential customers who need a lifting solution at the lowest price possible. Some assembly is required, but once assembled installation consists of putting it where you want it, securing it, and plugging it in. The Reconditioned Hercules II 600 is weather resistant and can be installed outdoors as well as indoors. It comes with a 30 day parts warranty and it has a 600 lb. capacity.
Use our Virtual Designer to help visualize your lift.
Solid platform
Automatic folding ramp
Weather resistant
Top and bottom limit switches
600 lb. weight capacity
Meets ASME 18.1 - Section 5 - Private Residence VPLs
Meets CSA B44.1 - ASME 17.5 - Elevator and Escalator Electrical Equipment

Give us a call for any help you may desire, we have a team of experts that can answer any question about applications, accessories or anything else about our vertical platform lifts.
| | |
| --- | --- |
| Lifting Capacity | 600 lb |
| Standard Lift Height | 53" |
| Maximum Lift Height Upgrade | 125" |
| Arrives Assembled | No |
| Drive System | Acme Screw Drive |
| Optional Drive Systems | None Available |
| Battery Powered Option | Yes |
| Constant Pressure Platform Control | Yes |
| Emergency Stop Platform Control | Included |
| Alarm Button | None Available |
| Keyed Platform Control | Optional |
| Call-Send Controls | Optional |
| Optional Call-Send Controls | Non-Keyed, Keyed, Wireless |
| Platform Type | Solid with Non-Skid Coating |
| Platform Size | 36" x 48" (34" Usable Width) |
| Optional Platform Sizes | 36" x 54" (34" Usable), 36" x 60" (34" Usable), 42" x 54" (40" Usable) |
| Platform Configuration | Straight-Thru Access |
| Optional Platform Configurations | Same Side Entry-Exit, 90 Degree Adjacent Access |
| Upper Landing Gate | Optional |
| Upper Access Ramp | None Available |
| Lower Access Ramp | Automatic Folding, Optional Fixed |
| Grab Rail | Included |
| Guard Panel | 36", Optional 42" |
| Maximum Stops | 2 |
| Lift Speed (FPM) | 10 |
| Portable | None Available |
Shipping Info
Shipping Weight
Shipping Length
Shipping Width
Shipping Height




Product Reviews