Standard Transport Wheelchairs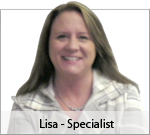 Meet the Expert - Lisa, wheelchair specialist and expert advisor.

Wheelchairs are important investments for mobility-impaired people. My job is to make certain that your investment is a worthwhile one that meets all of your needs and lasts you for years. I have extensive experience dealing with wheelchair users who have very specific day-to-day needs, and I am certain that my expertise will benefit you! Learn a little bit more about my background as a wheelchair expert, or call me today at 1(800)251-7250!

For everyday transportation of mobility-impaired patients who cannot drive their own wheelchairs, our standard transport wheelchairs are the perfect solution. We offer a wide range of seat widths and price points to ensure that you find the perfect match for both your patient and your budget. To order a standard transport wheelchair, please dial 1 (800) 251-7250 now to speak with one of our wheelchair specialists!