Golden Companion - Midsize 3 Wheel Scooter

model: GC-240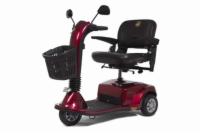 Click to enlarge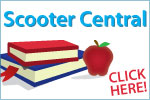 Your Price

$1,539.00

Regular Price

$2,395.00

*Non-Continental U.S. States & Territories - please call for shipping charges.

Warranty Info

Click Here

The Companion series has been updated and improved, turning it into a best-in-class mobility scooter that everyone will fall in love with! This model is the midsize, 3-wheel version and features the same great style, high performance, and top build quality found on all Golden Companion scooters. From its adjustable LED headlight and ultra bright rear brake lights, to its ergonomic controls and fully adjustable seat (with LiquiCell comfort padding!), the Companion scooter hits all the marks. And when it comes time to take your Companion with you as you travel, you will be impressed by how it easily it disassembles and then goes back together. Don't worry, just ride!
| | |
| --- | --- |
| Weight Capacity | 300 lb |
| Overall Length | 42.5" |
| Overall Width | 23.5" |
| Seat Depth | 16" |
| Seat Width | 18" |
| Per-Charge Range, Maximum | 15.5 mi |
| Maximum Speed | 4.5 mph |
| Turning Radius | 39" |
| Weight, without batteries | 122 lb |
| Weight, with batteries | 166 lb |
| Heaviest Piece Weight | 45 lb |
| Disassembly | 5 Pieces |
| Front Wheel Diameter | 9" |
| Rear Wheel Diameter | 9" |
| Ground Clearance | 3.5" |
| Tire Type | Solid, Non-Marking |
| Drivetrain Type | Sealed Transaxle |
| Motor Type | 24 Volt DC |
| Brake Type | Dynamic/Electro-mechanical |
| Controller Type | 90 Amp |
| Battery Type | U-1 x2 |
| Battery Weight | 44 lb |
| Battery Charger | Off-board |
| Goes In Reverse | Yes |
| Freewheel Mode | Yes |
| Tiller Style | Delta Tiller |
Shipping Info
Shipping Weight

224.0 pounds

Shipping Length

44.5 inches

Shipping Width

25.5 inches

Shipping Height

24.5 inches




Product Reviews
Not For A Senior In A Nursing Home

Jan 9, 2015 6:57 AM

Bestwishes

from

Tulsa, Oklahoma

would not recommend this to a friend.

A Little About Myself

daughter of a senior in a nursing home

Pros
Cons
Service & Delivery

excellent

This Golden Companion GC-240 3-wheel scooter was purchased August 4, 2014 for my Mom who is in a nursing home. After using this scooter for 5 months I have to say, "DO NOT BUY THIS SCOOTER IF YOUR LOVED ONE IS IN A NURSING HOME." I can't emphasize this enough. It doesn't stop fast enough to allow for other people who step or roll out in front of you quickly. This might be ok if you use this at home or in a park, but anywhere there are a lot of people this scooter is a disaster. Even a nurse who was moving the scooter put a hole in the wall of Mom's room, so it's not just Mom. Even when I am moving it to put it beside the bed, I have to be very careful using a stop and go maneuver to avoid hitting the night stand. Tight spaces are a problem. There is such a lag on when you let go of the tiller to when it actually stops. And I did read one review that mentioned this but I didn't realize what a big problem it was going to be. Delta Tiller-Not a good thing for a senior. Because both handles can make it move forward and backward, it is just too confusing for a senior to learn. If your loved one only has use of one arm it would be good in that situation as you can go forward and backward using the handle on either side. Also, you have to let go of one side of the tiller to make a tight turn because the tiller is so big and my Mom is a small woman who can't reach that far with both arms when she is trying to make a tight turn. My Mom won't let go. She has to hold on with both hands. So it is a long series of back and forth, back and forth, back and forth for her to turn a tight corner. The scooter can make a tight turn if your loved one has long enough arms or can just use one hand to turn it. I would never buy one with a delta tiller again. The handle to swivel the seat is odd in that you push down on it instead of pull up. So you have to be able to reach that far. And the EZ Reach tiller adjustment lever to move the tiller back and forth is too hard for her to pull. The other bells and whistles (headlight, rear lights, etc) aren't needed so don't pay more to get those things. Even though the brochure says it is carpeted, it is not. It has a rubber mat on the floorboard. I even called them about that and they laughed it off saying they haven't used carpet in years. Looking today it still references their under carpet trouble shooting guide. Not a big deal, just something to know. Something I didn't realize when I read about it was what an off-board battery charger was. It is a heavy box that sits on the floor that has its own off and on button that you are supposed to turn off when you are not charging the scooter. In a nursing home, it is impossible to ask every staff member who might be assisting my Mom to turn it off when they unplug the charging cord from the scooter. My Mom can't do it so it stays on 24/7. I don't know what problem this is going to cause, but the old Rally scooter she borrowed did not have this complication. You just plugged it in from the wall plug to the scooter. There was no additional box to deal with. Really you need to be a tall, strong person with quick reflexes to operate this scooter. I am sure it is a good scooter for the right person in the right situation. If your senior is small, gets easily distracted or doesn't learn new things easily, I would not recommend it. And it certainly doesn't work well in a nursing home as there are so many people and the bedrooms are so small. My Mom had used an old Rally scooter that another resident had and she had no problems with it. They don't even make Rally's anymore so I couldn't get that one. So I hope this review helps someone else make a better decision that I did. I had to order it online as it wasn't available locally so there was no chance to test drive it and there aren't many reviews online. It's a lot of money for something that doesn't fit the situation.

US Medical Supplies

replies:

We do sincerely regret that you did not receive a scooter appropriate for your mother's living environment. It is always recommended for our website visitors to call in and speak with one of our mobility experts. Our experts are trained extensively to recommend the appropriate scooter for our customers. It sounds like there would have been a number of options more suitable for your mother. We have passed your concerns regarding the brakes over to Golden Technologies so that they can address the problem appropriately.
Companion 3 Scooter

Aug 19, 2011 2:58 PM

Dan

from

Lancaster, PA

would recommend this to a friend.

A Little About Myself

Adult Male

Pros
Cons

None

We love our new scooter!

28 of 32 people found this review helpful
BEST OF THE BEST

Apr 7, 2011 11:26 PM

JACK

from

GAUTIER, MISSISSIPI

would recommend this to a friend.

A Little About Myself

100% TOTAL DISABLED AMERICAN VETERAN 68

Pros

It has served me well. It is very comfortable. Turning radius short. Easily maintained. I highly recommend this model. I have owned other 4 wheel scooters in the past, but it was to bulky & hard to turn.

Cons

NONE

Service & Delivery

Provided by the Veterans Administration. "Excellent"

I have owned a Companion for over 6 years (Earlier Model).

67 of 69 people found this review helpful