call for special offers
& product assistance
$1,599.00
*Non-Continental U.S. States & Territories - please call for shipping charges.
Click Here to Submit Your Photos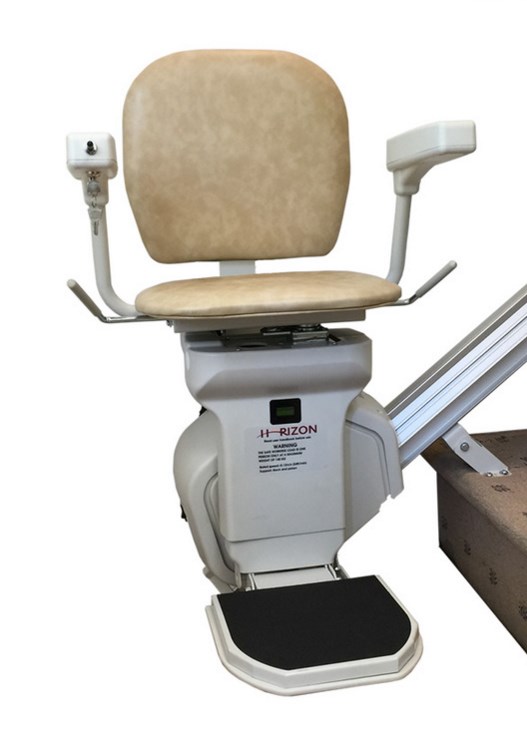 Certifications: If this product has one.
Product Description
The AmeriGlide Horizon Standard Stair Lift - Used incorporates a long list of innovative features into a compact design that is perfect for almost any staircase. When you purchase the Horizon, you get to enjoy a slim fit with a lever operated seat and footrest that can be folded up and out of the way. This innovative model can also be installed on steep staircases with an angle of up to 55 degrees. Other features include: a digital diagnostic display, comfortable chair seat, and a lap belt. All these cutting-edge details combine to create the most powerful, comfortable and convenient model on the market. Call today to speak with a stairlift expert and place your order and start enjoying greater safety and mobility in your home.
Warranty
All pre-owned AmeriGlide stair lifts are covered by a 1 year parts-only warranty. Batteries are covered by a 30 day warranty
Product Specifications
Drive Type
Rack and Pinion
Basic Installation Included
No
Max Track Length, Standard
6.7'
Max Track Length, Optional
63'
Track Material
Anodized Aluminum Single Rail
Swivel Seat Rotation
Manual Swivel
Constant Pressure Controls
Yes
Footrest Safety Sensor
Yes
Unit Footprint, In Use
24.8"
Unit Footprint, Parked
13.5"
Call Stations Included
Optional - Depends on inventory available
Digital Diagnostics Display
Yes
Customer Reviews
Sort by


ameriglide horizon stair lift
Oct 21, 2019 1:50 PM
pj from pscanlon@groco.net would recommend this to a friend.
A Little About Myself
middle class self starter
Pros
works great , my wife who is disable due to a stroke can now go thru the house without any help.
Cons
installation of wiring diagram could be more clear. had trouble with just the arrows pointing to something on the pc board.
Service & Delivery
came fast but delivery was part one day and the rest the next.
would highly recommend this unit to friends and family
71 of 74 people found this review helpful

Outdoor Chairlift
Jun 11, 2019 6:09 PM
Windy Wade from Utah would recommend this to a friend.
A Little About Myself
Do it yourselfer
Pros
Makes it easy to get in and out of the house.
Cons
None
Service & Delivery
Good except for one broken box.
It took some work to get installed, but it was all worth it. See, You Tube, Windy Wade channel, Outdoor chairlift. That shows my pros and cons.
64 of 70 people found this review helpful