Saddle Bag - Extra Large
call for special offers
& product assistance
$88.00
*Non-Continental U.S. States & Territories - please call for shipping charges.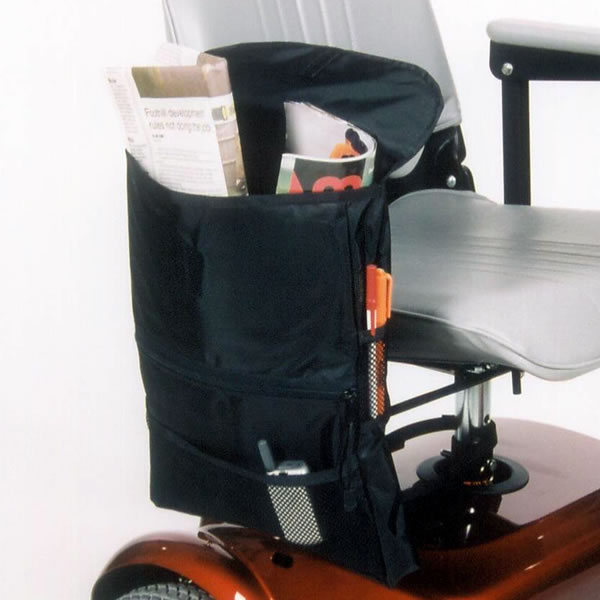 Certifications: If this product has one.
Product Description
This extra large saddle bag gives you ample storage space on the side of your scooter or power chair.
Attaches to the armrest of your scooter or wheelchair

Gives you a large storage area
"Soft to the skin" mounting system

Size: 12" x 16" x 2"
Customer Reviews
usmedicalsupplies.com
Feb 22, 2012 11:19 PM
Sue

from

Indiana

would recommend this to a friend.
A Little About Myself
Totally disabled
Pros
Large and light-weight.
Cons
Doesn't fit through the doorway when it's full.
Service & Delivery
I've had no problems, with it.
Seems a little overpriced for what it is.
6 of 6 people found this review helpful

It's great!
Oct 14, 2011 8:45 AM
Veteran Rider

from

USA

would recommend this to a friend.
A Little About Myself
Handicapped veteran who lives in a power wheelchair.
Pros
It's large enough to carry almost everything that I need everyday and it also gives me a place to store my keys, wallet, CCs and other items that I can no longer carry in my pockets. The pocket on the cover is perfect for a credit card, business card, or DMV ID card. The inside pocket is great for storing my bus schedule and ride card. The main pocket can hold books or items that you buy at stores.
Cons
The pockets on the sides are too short for carrying a cell phone or even a pen. They should be a little deeper and wider. Also some kind of hooking system to keep the bag in position on the arm, would be helpful.
Service & Delivery
Quicker than I thought.
The only thing I had to do with my chair was raise the seat 1 inch to keep the bag from rubbing with the drive wheel.
7 of 7 people found this review helpful

A very useful item.
Sep 24, 2009 2:04 PM
Reignbeau

from

Milwaukee, Wisconsin

would recommend this to a friend.
A Little About Myself
Elderly
Pros
Comfortable, Easy to Use, Can Withstand Use, Convenient, Stays in Place
Cons
Needs larger closure strips.
It would be helpful if the velcrow closure strips were just a little larger. Thanks for a nice product.
14 of 14 people found this review helpful