Harmar 400-X VPL
call for special offers
& product assistance
$6,115.00


*Non-Continental U.S. States & Territories - please call for shipping charges.
Click Here to Submit Your Photos
Sales & Product
Questions
(800) 647-0916
Technical Support
1 (866) 294-4460
Contact Us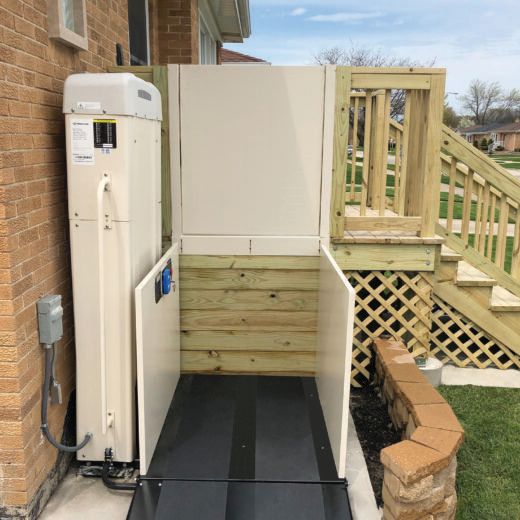 this here if they are not any documents
Certifications: If this product has one.
Product Description
The Harmar 400-X Vertical Platform Lift represents a new generation and evolution in Vertical Platform Lifts.

Innovation is at the heart of this next generation VPL. The Harmar 400-X is an outstanding choice for vertical lifting solutions in home settings where an elevator is impractical or unnecessary. SteadyDrive Ensures a smooth, quiet and stable lift.

Shipping prices are for the Contiguous 48 States. For other delivery location, please call for a quote.
Product Specifications
Maximum Lift Height Upgrade
53"
Constant Pressure Platform Control
Yes
36" x 48" (34" Usable Width)
36" x 60" (34" Usable), 42"x 54" (34" Usable), 42" x 60" (40" Usable)
36" for 36"x48" Platform, all others 42"
Options Available
Lifting Height

53" MAXIMUM LIFT HEIGHT $0.00

Application

Power Source

Use Option

Tower Orientation

TOWER ON THE LEFT $0.00

TOWER ON THE RIGHT $0.00

Number of Stops

Hoistway Installation

INSTALLED IN A HOISTWAY $0.00

NO HOISTWAY $0.00

Platform Type (Width, Depth, Height)

Select From Options Below $0.00

[___________36"_High____________] $0.00

Straight Through (180 Degrees) Requires Folding Ramp $0.00

36 X 48 X 36 STRAIGHT THROUGH PLATFORM $0.00

[___________42"_High____________] $0.00

Straight Through (180 Degrees) $0.00

36 X 54 X 42 STRAIGHT THROUGH PLATFORM $372.00

36 X 60 X 42 STRAIGHT THROUGH PLATFORM $736.00

42 X 54 X 42 STRAIGHT THROUGH PLATFORM $822.00

42 X 60 X 42 STRAIGHT THROUGH PLATFORM $922.00

90 Degrees (Tower on Left / Right determined by looking into lift from ground level) $0.00

36 X 54 X 42 90 Degree LEFT PLATFORM $736.00

36 X 54 X 42 90 Degree RIGHT PLATFORM $736.00

36 X 60 X 42 90 Degree LEFT PLATFORM $1,100.00

36 X 60 X 42 90 Degree RIGHT PLATFORM $1,100.00

42 X 54 X 42 90 Degree LEFT PLATFORM $1,193.00

42 X 54 X 42 90 Degree RIGHT PLATFORM $1,193.00

42 X 60 X 42 90 Degree LEFT PLATFORM $1,286.00

42 X 60 X 42 90 Degree RIGHT PLATFORM $1,286.00

Platform Gate

42" High Gates Below not for 36" High Platform $0.00

NO PLATFORM GATE $0.00

36 X 42 PLATFORM GATE W/EMI INTERLOCK, LEFT $1,286.00

36 X 42 PLATFORM GATE W/EMI INTERLOCK, RIGHT $1,286.00

42 X 42 PLATFORM GATE W/EMI INTERLOCK, LEFT $1,508.00

42 X 42 PLATFORM GATE W/EMI INTERLOCK, RIGHT $1,508.00

Platform Controls

Emergency Stop Alarm with Lighted Button $165.00

Platform Options

54" HANDRAIL [Not applicable for 36x48x36] $136.00

60" HANDRAIL [Not applicable for 36x48x36] $165.00

Keylocks for Controls $100.00

CHICAGO KEY UPGRADE FOR KEYED CONTROLS (EACH) $136.00

Ramp Type

36" AUTO-FOLD RAMP [Must Select for 36x48x36 Platform] $0.00

42" AUTO-FOLD RAMP $100.00

36" FIXED RAMP $0.00

42" FIXED RAMP $100.00

Pit, no Ramp (Add Pit Switch) $229.00

Interlocks

INTERLOCKS BELOW ARE FOR A CUSTOMER PROVIDED DOOR OR GATE. $0.00

EMI INTERLOCK FOR DOOR/GATE PROVIDED BY OTHERS - LH $515.00

EMI INTERLOCK FOR DOOR/GATE PROVIDED BY OTHERS - RH $515.00

OTHER INTERLOCK OPTIONS $0.00

WIRING FOR INTERLOCKS PROVIDED BY OTHERS $265.00

Landing Gate

Landing Gate Call/Send

CALL-SEND ROCKER SWITCH FOR LANDING GATE $129.00

CALL-SEND ROCKER SWITCH W/KEY FOR LANDING GATE $215.00

Call Send Options

CALL/SEND STATION CONTROL BOX - TOP/BOTTOM (EACH) $229.00

KEYED CALL/SEND STATION CONTROL BOX - TOP/BOTTOM (EACH) $305.00

Fascia Panels

NO FASCIA PANELS $0.00

FASCIA PANEL; 41" WIDE x 24" TALL $100.00

FASCIA PANEL; 41" WIDE x 53" TALL $143.00

FASCIA PANEL; 47" WIDE x 24" TALL $129.00

FASCIA PANEL; 44" WIDE x 53" TALL $200.00

FASCIA PANEL: 41" WIDE, CUSTOM CUT TO HEIGHT $208.00

FASCIA PANEL: 47" WIDE, CUSTOM CUT TO HEIGHT $236.00

Additional Options

TOWER BRACE WITH BRACKET $265.00

EXTRA KEYS (EACH) $36.00

FLOAT LEVEL SWITCH $229.00

CUSTOM COLOR (ALLOW 6-8 WEEKS - Call for Availability and Price) $0.00

Delivery Options

FLAT BED AND FORKLIFT DELIVERY $539.00

Liftgate Service $245.00

Delivery State

Delivery Outside of the United States $0.00

Alabama $0.00

Alaska $0.00

Arizona $0.00

Arkansas $0.00

California $0.00

Colorado $0.00

Connecticut $0.00

Delaware $0.00

District of Columbia $0.00

Florida $0.00

Georgia $0.00

Hawaii $0.00

Idaho $0.00

Illinois $0.00

Indiana $0.00

Iowa $0.00

Kansas $0.00

Kentucky $0.00

Louisiana $0.00

Maine $0.00

Maryland $0.00

Massachusetts $0.00

Michigan $0.00

Minnesota $0.00

Mississippi $0.00

Missouri $0.00

Montana $0.00

Nebraska $0.00

Nevada $0.00

New Hampshire $0.00

New Jersey $0.00

New Mexico $0.00

New York $0.00

North Carolina $0.00

North Dakota $0.00

Ohio $0.00

Oklahoma $0.00

Oregon $0.00

Pennsylvania $0.00

Rhode Island $0.00

South Carolina $0.00

South Dakota $0.00

Tennessee $0.00

Texas $0.00

Utah $0.00

Vermont $0.00

Virginia $0.00

Washington $0.00

West Virginia $0.00

Wisconsin $0.00

Wyoming $0.00