Scooter Cover, Large
call for special offers
& product assistance
$147.00
*Non-Continental U.S. States & Territories - please call for shipping charges.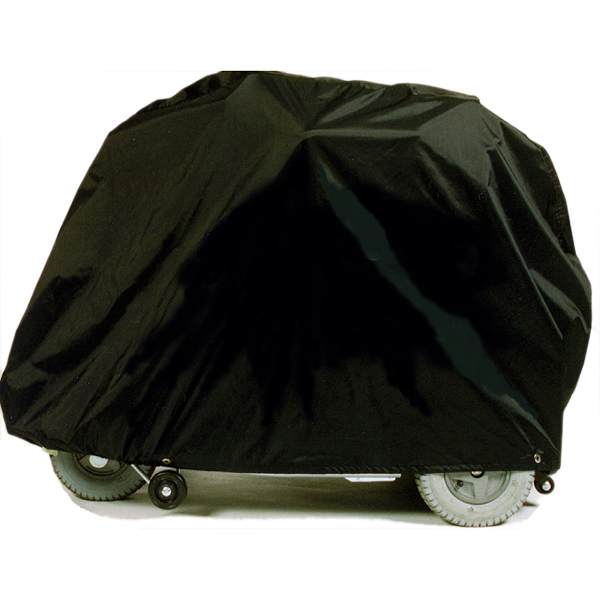 Certifications: If this product has one.
Product Description

This one is for the large scooters that are hard to cover during those times of terrible weather. This cover slips easily over your mobility scooter and protects it from the rain, sun, and wind. This is the ideal cover for outdoor storage or when transporting your scooter. Whenever bad weather rears it's ugly head, you'll be sure to know that your mobility scooter will be safe and sound.
Customer Reviews

cover
Jun 5, 2016 9:18 PM
nitro

from

montague ca

would recommend this to a friend.
A Little About Myself
Pros
Cons
good cover

Perfect for Any Scooter
Mar 26, 2012 4:19 PM
Mamabear

from

Avenal, CA

would recommend this to a friend.
A Little About Myself
I am my mother's caregiver, that has lost the use of her legs suddenly this past year. I am doing all I can to make the transition easier on her.
Pros
I spoke to a representative, that was extremely patient and very helpful. He took the time to find me what I needed before ordering it for me. He was kind, understand, and very personable. To top it off he followed up with me to insure that I received my product and that it was up to my standards. This is an amazing company, one that I would recommend to anyone trying to help themselves or a loved on with the products they need to make life a little easier.
Cons
Absolutely no cons to report!
Service & Delivery
The delivery was prompt and the service was award winning.
I would tell anyone in my position that is trying to help their loved one go from being an active person to being wheelchair bound, that this is the place to shop. The customer service is amazing. The prices are the lowest I found on the internet. They treat people like human beings, not like just another sale. I love this company and will continue to use it for anything I need to make my mother's life easier.
4 of 5 people found this review helpful

Great for the trips where it my rain.
May 7, 2010 7:43 PM
Duff

from

Desert Hot Springs, CA

would recommend this to a friend.
A Little About Myself
Elderly
Pros
Can Withstand Use
Cons
Won't Stay Put
Will be taking a long trip this summer and will keep with us in the case where wheather may change unexpectly. Bought this for that reason.
5 of 5 people found this review helpful