$29.99
Online Orders Only
*Non-Continental U.S. States & Territories - please call for shipping charges.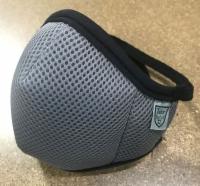 Certifications: If this product has one.
Product Description
Online Orders Only - No phone orders will be accepted.
Orders of 300 or fewer will ship in 5 business days. For orders that exceed 300, we will advise on shipping time.
The PreVent Mask is made from two layers of breathable spacer fabric with a layer of Sil-Air silicone foam containing AlphaSan Antimicrobial Silver sewn between the layers of spacer fabric.
Sil-Air silicone foam with AlphaSan Antimicrobial Silver has been tested to show a 99.999% kill rate on E.coli, MRSA, and several strains of virus. However, masks do not provide complete protection from the spread of virus and you should use other precautions as well. Sil-Air has not been tested specifically for COVID-19.
The PreVent Mask has been designed to fit on the face snugly with a molding wire to allow the user to form the mask to the bridge of the nose, making the PreVent Mask very secure and comfortable.
The binding used is a 1.5mm soft neoprene to provide comfort along the top and bottom edges of the mask and covers the molding wire to pad and help seal the perimeter of the mask.
The PreVent Mask is washable by hand wash or on gentle cycle in a garment bag. Hang to dry, do not use a dryer. Do not use bleach. * DO NOT MICROWAVE *
Unlike N95 and other high-level filter masks that make breathing difficult and often have the user breathing back in their own CO2, the PreVent Mask allows you to breath with ease.
There are two colors Gray and Black in all sizes: STANDARD fits well on most adults with the two elastic straps, SMALL (youth and adults with small facial features) and LARGE (adults who typically wear a large size hat).
The masks are manufactured in Ringgold, Georgia, USA.
Because it is a personal use product, the PreVent Mask is non-returnalbe and non-refundable.
Disclaimer:
These masks are not intended to be used as a replacement for any regulated medical device and have not been cleared by the FDA.
These masks should not be considered as a comparable substitute for medical equipment.
These masks are not NIOSH approved.
Telor Products, LLC does not make any claims as to the performance of these masks and urges customers to do their own research on the topic in order to make an informed decision.