Pride Jazzy Evo 613
FDA Class II medical device*
*Non-Continental U.S. States & Territories - please call for shipping charges.
Product Description
The
Jazzy EVO 613
and
Jazzy EVO 613Li
measure in at an impressive 22 inches wide at the base and offer a 22-inch turning radius. Not only is it one of the most powerful power wheelchairs on the market, but it's also one of the narrowest and most maneuverable.
The
Jazzy EVO 613
series gives you all the best that Pride has to offer with patented Active-Trac Suspension and exclusive Mid-Wheel 6 Technology that provide you with a smoother, stable ride.
And it does all that while pushing the limits of mileage and speed capabilities. A single charge can carry you up to 21 miles with the lithium battery, and top speeds up to 5.1 mph.
The
Jazzy EVO 613
series of power wheelchairs with lithium batteries represent a philosophy shared at Pride Mobility: "If you're not constantly improving, ever innovating, and pushing boundaries, you might as well fall behind."
If you select the
Lithium Iron Phosphate Battery
option you will get:
Faster charging time
Sustained power performance
Lighter weight
More useable energy
Longer life
(Note: the Lithium Battery is not airline-compliant)
*Pride® FDA Class II Medical Devices are designed to aid individuals with mobility impairments
Product Specifications
2xU1 or 1xLithium Iron Phosphate
Warning:
This product can expose you to chemicals including lead and lead components, which is [are] known to the State of California to cause cancer or birth defects or other reproductive harm.
For more information, visit https://www.p65warnings.ca.gov
How To Measure For A Power Wheelchair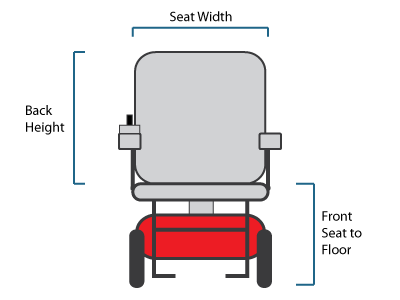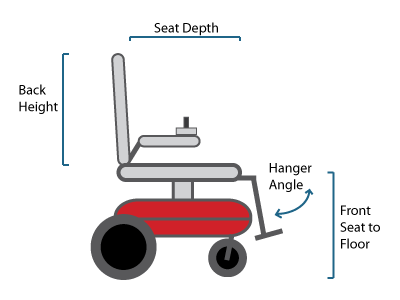 alt="Wheelchair Measuring Diagram - Side"/>
Seat Width: Measure the widest point of your body between the knees and hips. Add at least one inch- to this measurement for some extra breathing room. If you typically wear bulky or heavy clothing, such as during outdoor use in winter, you may wish to add two inches to this measurement to give yourself adequate room to move.
Back Height: This measurement will determine the distance from the seat base to the top of the wheelchair's seat back. Typically, you'll want to measure from the most posterior point of your body to the center point between your shoulder blades. Some users may prefer a higher back for added support, but remember that the higher the back of the chair is, the less room you'll have to rotate your upper body while seated.
Front Seat to Floor: Measure your leg from the back of your knee to the sole of your foot. Unless you are choosing a foot-propelled wheelchair, you will want to add two inches to this measurement to give yourself plenty of clearance for a footrest.
Seat Depth: Measure from the most posterior point of your body to the interior of your knee, deducting two inches from the total. You may require a greater amount of leg overhang to lift your legs during use; if so, consult your rehabilitation professional for guidance on adjusting your measurements accordingly, or speak with one of our power wheelchair specialists by dialing 1 (800) 794-9813 to get the right fit.
Hanger Angle: This measurement specifies how far your toes will extend from your body when seated, and is measured horizontally. The tighter your hanger angle, the less space you'll need to turn your wheelchair around. The flexibility of your legs and knees may also impact the hanger angle you will want to choose. Most wheelchairs have a hanger angle of about 70 degrees, and the farthest hanger angle available on any wheelchair is 60 degrees. Pediatric chairs have a hanger angle of 90 degrees to accommodate the shorter leg length of child users. A hanger angle is difficult for a wheelchair user to measure on their own, so we highly recommend calling one of our power wheelchair experts at 1 (800) 794-9813 to help you find a chair with the optimal hanger angle for your needs.