Why Are Pride Mobility Lift Chairs So Popular?
1. Pride Heritage Collection Lift Chairs have the exact look and feel of a traditional recliner. Whether you enjoy the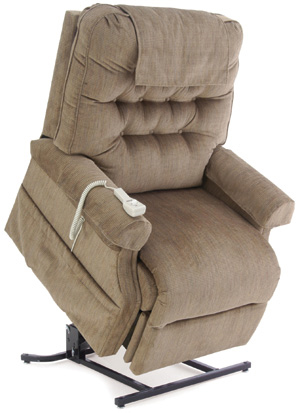 classic look of a button-back design or the modern touch of outward curving armrests, Pride's Heritage Collection of lift chairs are designed to be aesthetically pleasing and compliment your home's existing décor. These lift chairs look and feel like a high quality recliner, so you never have to feel like your living room is dominated by a piece of medical equipment. Once you start enjoying the benefits of your Pride lift chair, you won't even miss your old favorite chair. The proof is in the numbers: Pride is the leader lift chair retailer in the nation
2. Pride Heritage Collection Lift Chairs are incredibly customizable. Choose between a variety of colors and fabrics, including micro-suede, padded suede, crypton, vinyl, or even plush velvet, that will look great in your home and best fit your needs. If you are afraid of spills or leaks, go with a more stain resistant and easy to clean option! In addition, the three-position lift chairs in this series (Pride GL-358) are available in five different sizes: petite, small, medium, large, and extra-large. Choose the size that best supports your body and allows your feet to comfortably touch the ground when you are in a seated position. Perhaps best of all, these lift chairs can also be upgraded to feature a head pillow, a lumbar pillow, and heat and massage!
3. Pride Heritage Collection Lift Chairs represent a great value. Sometimes when you buy the lowest priced product on the market, you sacrifice quality. With Pride, you get a competitively priced lift chair recliner that is backed by a nationally recognized brand name and reputation. When you buy from Pride, you know that you are getting the highest quality product at an affordable price.

Pride Mobility lift chairs are incredibly popular among our customers for several good reasons. Learn more for yourself by browsing our vast slection of lift chair recliners.