Are All Walk In Bathtubs the Same?
Walk in bathtubs can vary greatly in form and function, as well as in price and quality. What you decide on depends on many different variables, such as your physical needs, the space you have to put the tub into, and your budget. Here is a brief overview of each option we carry and what the benefits and features of each one are.
The first type of walk in bathtub is called the "full bather" bath. This is very similar to a regular bathtub in that it allows the user to fully lie down and use the tub as usual. The only real difference is the door in the side of the tub, which enables a person to avoid having to step over the side of the tub. It can be combined with a bath lift for maximum mobility. These are a great option for those who have no problem getting up and down by themselves but have trouble raising their legs to step over the side of the tub.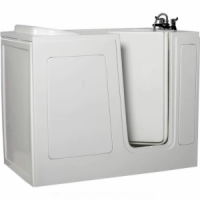 The standard walk in bath is the most popular style of walk in tub. It provides a seat for a disabled person to use as they bathe, making their bathing experience much easier and safer. It usually comes with a number of different options at little or no charge, such as different finishes for the faucet system and nozzles. They also come in different sizes and configurations to accommodate each individual's needs, housing, and situation.

A deep water walk in bathtub offers the same features as a standard walk in bath, with the water being deeper. Users should check to make sure the depth is satisfactory, but these are a great option for those people who need to sit down while bathing, but also want the relaxation that can be obtained from being almost fully submerged.

A hydrotherapy walk in bath tub is made to make the most of air and water jets in order to obtain maximum relaxation. Many of them also incorporate some form of aromatherapy as well. Unlike other tubs where the air and water jets are optional, the hydrotherapy bath includes these features in the price of the bath.

Wheelchair accessible walk in bathtubs are made for those who do not have the ability to walk at all or have great difficulty walking. They are designed to make transferring from a wheelchair to the bath much easier. Normally, they have features such as a cut-out door in the shape of the seat. This makes it safer and simpler for a wheelchair user to simply slide themselves from their chair to the seat in the tub.

Dual Shower/Tub Units are ideal for houses where both disabled and fully mobile people will be using the same bathroom. The bottom half is just like a standard walk in bath while the upper half is just like a normal shower.

Most of these walk in bathtubs come in various sizes in order to accommodate different physical needs, as well as different living situations. If you have any questions at all, whether it's about which walk in bathtub is right for you, or if you just have a general question about walk in baths, please call our experts at 1 (800) 346-1821.

alan