What to Look For When You Don't Know What To Look For
If you've never bought a walk in bath or just don't have much experience with them at all, it can be difficult to know what to look for. However, because this is a permanent installation in your home it's important to be aware of the different options and how each may help you. Depending on the brand, these can vary, but here are some common features.
• Does the door swing outward or inward? Depending on the user's level of mobility and the amount of concern for their safety, you may want to pay close attention to this. Inward swinging doors can be harder to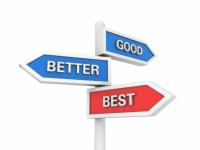 maneuver around when entering or exiting the bath. For those who think it might be prudent, an outward swinging door is a great option.
• Is it wheelchair accessible? For some people this is not an issue, but for those who are in a wheelchair or might be in a wheelchair in the near future this is very important. If it's difficult to climb in and out of a normal tub, it might be wise to consider a wheelchair accessible bath.
• Does it have an option to add a heater? Heaters are important, in order to keep the water warm when someone wants to relax and soak in the tub for a while. If your tub doesn't have the option to add a heater, most of the time an aftermarket heater can be added for relatively inexpensively.
• What is the drain time? For most walk in baths, the water has to drain almost completely out before the door can be opened. While the drain time does depend somewhat on your home's plumbing, the choice of bath can also greatly affect it. Some baths have a drain time of 7 minutes or more, and the user has to sit in the bath while it drains, sometimes becoming quite chilly as the air dries them off.
• Is there a hydrotherapy option? While this can be an in-depth topic, all that is needed to say here is that hydrotherapy has been proven to be very therapeutic and helpful in regaining healthy muscles or helping your muscles remain healthy. Many have found this option to be extremely helpful.
• What is the cost? This is the question on everyone's mind. How much is reasonable to spend on a good quality walk in bath? Typically, walk in baths range from $2,000 all the way up to $15,000 or more. There is a wide range of features and add ons to choose from, and they all affect the price in different ways. The bottom line is that it comes down to your budget. If you can afford a nicer tub, or just need to have a larger tub, then you should spend more on it. If a simpler option will be suitable, then why spend more than you have to? At USM, our Low Price Guarantee ensures you'll never have to.
As you can see from this short list, there are some important things to think about when deciding if it is a smart investment to purchase a walk in bath or not. If you have any questions, please don't hesitate to call our walk in tub experts at 1 (800) 346-1821.