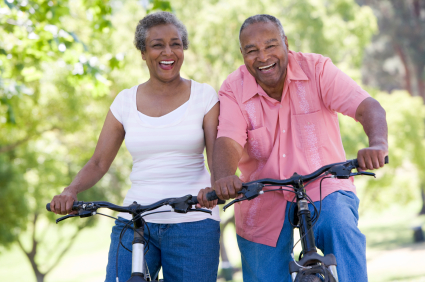 For individuals of advancing age or who have a mobility disorder, fall hazards can be a serious problem. The bathroom has more such hazards than any other place in the home. A few simple precautions can help to avoid a fall injury in your bathroom, however. Non-slip flooring and grab bars in your shower or tub will help you keep your footing and maintain your balance while entering or exiting the tub. Small plug-in nightlights in your bathroom are also a wise addition to make sure you don't misstep during night time trips to the toilet. Most importantly, keep your bathroom floor clean and dry by wiping down moist areas with a towel after bathing or showering. For the ultimate aid in bath safety, we also recommend a walkin bath. Our walkin baths are built with non-slip surfacing and grab bars, and a low step-in height makes it easier to keep your footing as you enter and exit.
Independence is more than just a buzzword to the majority of our customers; it's a factor in overall quality of life. The ability to care for one's self despite the natural deterioration of mobility can be a powerful motivator for an aging person, improving their outlook on life and giving them more fulfillment. Walkin baths and bath lifts facilitate this fulfillment by allowing people who might otherwise require supervision during bathing to care for themselves and maintain their privacy. This also offsets the cost of living; in-home care for a physically disabled person can be dauntingly expensive, and bath mobility aids can, in many cases, negate the need for such steep expenditures.
As a greater portion of the population ages, a growing trend observed among people over 60 is the desire to remain in their homes for as long as possible. Many such individuals have lived their entire lives in the homes in which they reside; they have spent many fulfilling years in their houses raising children, enjoying the company of their friends, and spending their leisure time with a spouse or partner. Home mobility aids, including walkin baths, can help remove obstacles to aging in place, allowing older people to enjoy their homes well into their golden years - sometimes even permanently. For more information on how a walkin bath can improve your quality of life in your advancing years, please call our bath safety specialists at 1 (800) 346-1821 now.