Gearing up for a trip that involves traveling with your mobility scooter? Make sure you know your responsibilities before you leave.
First off, you need to be aware of the laws and rules associated with owning and traveling with mobility scooters. These laws may vary depending on which city you are traveling in. We recommend consulting with your local authorities to gain a better understanding of how these rules apply to you in your locale.
For instance, not many people are aware that in most cities, mobility scooter riders are still considered pedestrians. This means that you are expected to stay and navigate on sidewalks and refrain from using the roads as much as possible. Since you do not enjoy the same rights as driver, some states will impose fines on scooter operators who drive on public roadways. A majority of states are in fact scooter friendly, but ignorance of the law will not prevent you from getting a citation, so it's best to be sure beforehand. Know the rules to better protect yourself and those with whom you share the sidewalk and streets!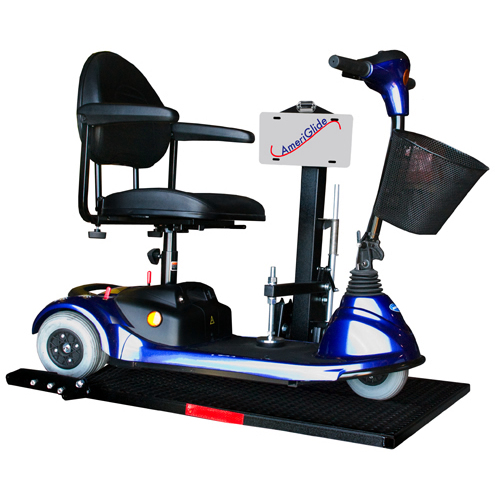 If you plan on taking your mobility scooter someplace and would need to load it into a van, a truck, or even onto trailers, it would be more convenient to use a scooter lift to stack your unit into the vehicle. Another good option is a mobility scooter trailer which allows for quick transport of your unit. These devices can easily work with all types of trucks, vans, and cars. We mention this because different states and locales may have different laws governing the proper method of transporting cargo, especially in open-bed trucks.
While most mobility scooters have been designed for safety, it is still better to take extra precaution against accidents by installing added features that ensure safe travel. For instance, you can add reflectors or have headlights installed onto your scooter to increase your visibility to motorists and pedestrians alike. To this end, you can also add flags or signaling devices. Still, it is best to avoid taking your scooter out for late night trips in poorly lit areas. Also, refrain from wearing audio headphones while traveling on your scooter as this keeps you from hearing oncoming traffic. Be attentive and aware of your surroundings whenever you are out on your scooter in order to avoid accidents.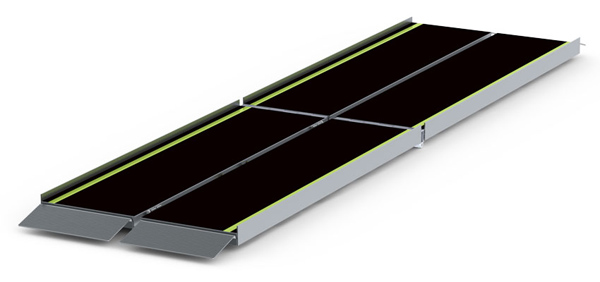 While most buildings have provisions for scooters, you might consider traveling with your own scooter ramp so you can easily go in and out of establishments. This way, you are less likely to be refused entry or be inconvenienced by the absence of ramps. There are many types and styles of portable and compact scooter ramps that are available on the market today. Choose one that is most suited to your travel needs.
When planning for a long trip, make sure that your scooter's batteries are fully charged and in good working condition. As an added measure to keep from getting stranded on the road, take an extra battery with you. Don't forget to bring along your scooter's mobile charger, too. If you want a more energy efficient option, a solar charger is an excellent supplement to increase your battery life.
If you are traveling by airplane, there are some precautions you should take beforehand to ensure that your mobility scooter is properly handled. Because airline employees will be disassembling and reassembling your scooter for storage and return, it is recommended that you attach a copy of the disassembly and reassembly instructions from your owner's manual to the scooter. Mobility equipment is given first priority when unloading, and your scooter will likely be the first thing to be unloaded and reassembled. Remember to tag your scooter as you would any other luggage with your name, address, and contact info in case it is misplaced. Airlines consider spillable batteries to be hazardous materials and may require that they be stowed with checked luggage rather than carried onboard, but by law, they cannot charge you extra for battery storage. All of our scooter batteries are considered non-spillable and safe for public transportation because they use either absorbent glass mat cells or gel cells. Currently, the TSA's policy is to subject disabled passengers to the same level of scrutiny as able-bodied passengers, and a mobility scooter may attract extra attention from screeners seeking to ensure that no contraband is stored in the scooter, so allow for extra time getting through security. We also recommend contacting your airline two weeks prior to travel to inform them of any special needs and give them ample opportunity to accommodate you. For additional information on issues pertaining to disabled individuals and air travel, we recommend visiting Flying-With-Disability.org.
Traveling with a mobility scooter offers many conveniences for mobility-impaired people. However, you should always be aware of your responsibilities and duties as a scooter user to keep the sidewalk and streets safe for motorists and pedestrians alike. Enjoy your travel, stay safe, and stay mobile!
Still have questions about this topic? Contact our scooter experts via email, or call us now at 1 (800) 794-9240!