It is a fact of life that most people, whether through incapacitating accident, long-term illness or simple old age, will need the option of a stairlift in their home at some point if their homes include a second floor. Choosing the correct power source for a stairlift is as important as the lift model itself and depends on personal need and circumstances.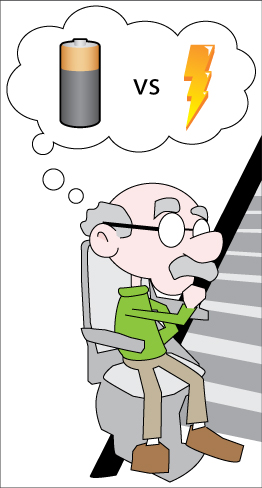 Stairlifts all operate on the same basic principle. The user is seated comfortably in the chair, secured with a safety belt and then is lifted slowly to another portion of the house, typically an upstairs area. This is done by means of an automatic lift using rails and a power source to lift the chair. Stairlifts come in a variety of styles, sizes and price ranges suitable to any need. Deciding which stairlift is right for a specific individual need however, largely depends on personal choice. The pros and cons of both types of chairs should be carefully considered when shopping for a stairlift.
Pros and Cons of Battery Powered
One of the primary benefits to battery-operated stairlifts is that they function as intended even during the loss of power. This gives loved ones peace of mind even with inclement weather. Of course, one drawback to a battery-operated stairlift is that the battery will eventually lose power and need to be replaced creating an ongoing cost. It is theorized that a battery-operated stairlift's power will decrease as the battery becomes weaker. In the event this happens in mid-lift, the user may be stranded on the staircase with no way to reach help if needed.
Pros and Cons of Electric Powered
Electric powered stairlifts have the advantage of being wired into the house electrical system. There are no batteries to replace and with a constant power source, the functionality of the lift would be consistent throughout its use. Beyond routine maintenance of electrical wire inspection, the stairlift itself would have very low maintenance. Of course, in an electrical outage the lift would be unusable by the homeowner and if trapped in one portion of the house, whether upstairs or downstairs, the user may not be able to contact help if needed.
Making The Right Choice
Stairlifts are suitable for individuals living alone or with caretakers. Whether battery powered or electrically wired, stairlifts effectively eliminate the need to abandon one part of the house due to the stairs being hard to navigate. Choosing the right lift will enhance the users life by giving them added mobility, a sense of independence and access to living areas in their home, which may be inaccessible by stairs alone.