TiLite Aero X Ultralight Wheelchair

model: AERO X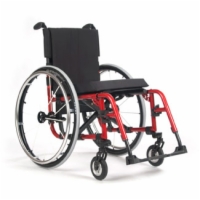 Click to enlarge

Call
(855) 207-9811
for the absolute lowest price on this product.
Your Price

$1,395.00

Regular Price

$1,995.00

*Non-Contiguous U.S. States & Territories - please call for shipping charges.

Warranty Info

Click Here


The Aero X features TiLite's new Tru-Fit clamp-on component system; comprised of the RFM, rear axle plate and front caster clamp. These components all clamp onto the new Aero X frame instead of being bolted through. The Tru-Fit system results in a 50% reduction of holes in the frame, allowing for finite adjustments since there is no need to line up components with pre-drilled holes. This design innovation also greatly improves the durability of the Aero X frame.

TiLite's exclusive Rigid Folding Mechanism RFM cross tube design, first developed for the TX, allows TiLite to incorporate one- piece side frames into its newest line of folding chairs. This innovation increases performance by reducing flex because the side frames are welded together, not bolted. TiLite's RFM cross tubes also feature snap in seat saddles that lock into place, helping the Aero X achieve near rigid chair performance.

TiLite in color? TiLite's Aero X is available in 14 frame colors. Whether you are looking for beautiful or just plain cool, now there is a TiLite for you.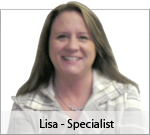 The Aero X by TiLite is an ultralight wheelchair designed to be both stylish and durable. The Rigid Folding Mechanism reduces flex in the side frames for better performance during transit, and lightweight 5-spoke Soft Roll wheels that are 40% lighter than TiLite's original wheel design make propulsion easier on the user. The Tru-Fit system and adjustable camber mounts allow you to customize your Aero X just the way you need it, and the Bullet caster housings add a sleek, sporty look to this ultralight wheelchair design!

| | |
| --- | --- |
| Product Weight - Min | 16.0 lbs. |
| Seat Width - Min | 12" |
| Seat Width - Max | 20" |
| Seat Depth - Min | 12" |
| Seat Depth - Max | 20" |
| Seat Height - Min | 15" |
| Seat Height - Max | 22" |
| Weight Capacity | 250 lb |
| Frame Type | Folding |
| Caster Size Range | 3" - 8" |
| Rear Wheel Size Range | 22" - 26" |
| Ergonomic Seat | No |
| Adjustable Back Angle | Yes |
| Suggested HCPCS Code | None |
Shipping Info
Shipping Weight
Shipping Length
Shipping Width
Shipping Height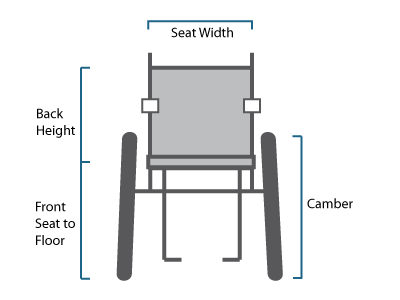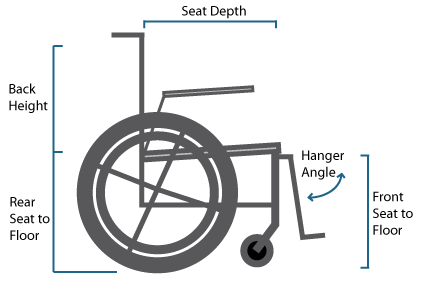 Seat Width: Measure the widest point of your body between the knees and hips. Add at least one inch- to this measurement for some extra breathing room. If you typically wear bulky or heavy clothing, such as during outdoor use in winter, you may wish to add two inches to this measurement to give yourself adequate room to move.
Back Height: This measurement will determine the distance from the seat base to the top of the wheelchair's seat back. Typically, you'll want to measure from the most posterior point of your body to the center point between your shoulder blades. Some users may prefer a higher back for added support, but remember that the higher the back of the chair is, the less room you'll have to rotate your upper body while seated.
Front Seat to Floor: Measure your leg from the back of your knee to the sole of your foot. Unless you are choosing a foot-propelled wheelchair, you will want to add two inches to this measurement to give yourself plenty of clearance for a footrest.
Camber: This is the term for the angle of the wheels in relation to the vertical plane of the wheelchair. A typical wheelchair has a 3-degree positive camber; sports models tend to have greater positive camber to allow for more user agility during athletic activity. If you are unsure how much camber you require, please call out wheelchair specialists at 1 (800) 251-7250 for assistance before you place your order.
Seat Depth: Measure from the most posterior point of your body to the interior of your knee, deducting two inches from the total. You may require a greater amount of leg overhang to lift your legs during use; if so, consult your rehabilitation professional for guidance on adjusting your measurements accordingly, or speak with one of our manual wheelchair specialists by dialing 1 (800) 251-7250 to get the right fit.
Rear Seat to Floor: This is the distance from the ground to the rear edge of the wheelchair's seat. Comparing this measurement to the front-seat-to-floor measurement will give you an idea of the wheelchair's rearward slope - sometimes referred to as the "dump" or "squeeze". Your individual physical needs and capabilities will affect how steep you wish the rearward slope of the chair to be.
Hanger Angle: This measurement specifies how far your toes will extend from your body when seated, and is measured horizontally. The tighter your hanger angle, the less space you'll need to turn your wheelchair around. The flexibility of your legs and knees may also impact the hanger angle you will want to choose. Most wheelchairs have a hanger angle of about 70 degrees, and the farthest hanger angle available on any wheelchair is 60 degrees. Pediatric chairs have a hanger angle of 90 degrees to accommodate the shorter leg length of child users. A hanger angle is difficult for a wheelchair user to measure on their own, so we highly recommend calling one of our manual wheelchair experts at 1 (800) 251-7250 to help you find a chair with the optimal hanger angle for your needs.



Product Reviews
Amazing!

Jun 2, 2014 7:06 AM

Rollin'_on_24's

from

Lewes, DE

would recommend this to a friend.

A Little About Myself

39 year old, tiny woman, severe cardiac issues

Pros

Requires minimal physical exertion and minimal upper body strength. Fits easily into car folded (I removed front seat Hyundai Sonata to allow the easiest access to my chair). Custom sized so the chair fits perfectly. Stylish!

Cons

The brakes on mine are unable to be placed properly because of room issues due to fabrication, so I will be fitting it with different brakes. Insurance doesn't cover this chair, MEDICARE, but it is well worth the money to have something that you can actually use and is made just for you!

Service & Delivery

Obviously this is not a ready ship in my size so although I waited for a few weeks, I was so happy with my purchase! Lisa in sales was courteous, and so knowledgeable that she made getting the right measurements a breeze! I will be a return customer because I was a person, not an order number. Thank You Lisa and US Medical Supply!

I love my TiLite. I would recommend this chair to anyone who has a low ability to physically exert themselves or low upper body strength because it moves so easily and is very light, compared to the clunkers that cost far less. This chair is incredibly comfortable

6 of 6 people found this review helpful
New wheels. New life!

May 13, 2012 10:03 PM

Doug T

from

WA, USA

would recommend this to a friend.

A Little About Myself

40 year old with spinal nerve damage

Pros

Less than 24 lbs. Easy to lift, setup and stow. Folds with ease. Comfortable to use and sit in. Built to my specifications.

Cons

I should have ordered it with Froglegs.

Service & Delivery

Communication with Lisa at US Medical was second to none. She was very helpful with making sure I had everything correct before I ordered. She even assisted with a last minute change after the order was sent to TiLite for production. The chair was delivered the day after TiLite completed it.

I have permanent nerve damage in my lower spine and degenerative discs in my entire spine. Walking has become one of the most painful things I do. I have lost much of the strength and feeling in my legs making it only possible to walk with AFOs and crutches. Since getting the TiLite Aero X I have rediscovered the world outside of my home. My front door is no longer a jail cell to me because of my difficulty with walking. I have become more independent. Carrying something by myself is again possible by setting it on my lap and rolling to my destination. Life has returned to me! Doug

28 of 29 people found this review helpful
The Exciting Tilite Aero X!

Mar 8, 2011 5:24 PM

Staff Member

from

Raleigh, NC

would recommend this to a friend.

A Little About Myself

Staff Member of US Medical Supplies

Pros

The Aero X is an aluminum wheelchair that gives you the same quality of a titanium wheelchair without the price. The construction material makes the wheelchair more rigid transferring power to your wheelchair while lessening fatigue.

Cons

Though aluminum is a good metal alloy, if you are looking for the very lightest, strongest frame you?ll want to go with a titanium model.

Service & Delivery

N/A

This chair is very customizable in terms of frames, dimensions accessories and overall look.

31 of 31 people found this review helpful