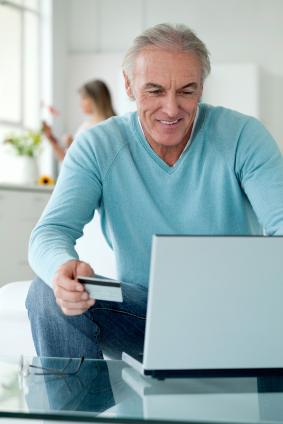 You can find used lift chairs for sale online - in fact, we sell slightly used lift chairs right here on our site that were once floor models and have been reconditioned, and they even come with limited warranties - but there are pitfalls to buying used goods on the internet that every smart shopper should learn to avoid. If you're seeking a used lift chair for sale, or any other item for that matter, here's some helpful information to keep you from being burned by a bad deal.
1. Practice good computer security. Applying updates to your operating system (Windows or Mac OS, depending on what kind of computer you run) and having basic anti-virus software are the best places to start when protecting yourself from online scams. While there are plenty of safe shopping sites out there on the internet, a few unscrupulous online dealers may simply be fronts for information mining, spreading malware or collecting personal data when you visit on the false pretext of having a genuine product. At the very least, download a program such as AVG Anti Virus or Microsoft Security Essentials (both are available free of charge) to keep yourself protected from unwanted intrusions while you browse websites and shopping portals. It's also a good idea to secure your home's internet connection to keep unwanted snoopers from grabbing your personal information during sales transactions, and this can happen even if the dealer you're buying from is completely honest.
2. Only buy from secure shopping sites. You'll notice that USM uses SSL, or a secure sockets layer, to encrypt your personal and banking information if you buy from our website with a credit card. This is an industry standard, and any shopping site you visit ought to have this enabled. If not, don't use it. This doesn't make the site untrustworthy, but it could expose you to data theft.
3. Buy with credit, not debit. Disputing fraudulent charges is often much easier with a credit card than with a debit card linked to your checking account - plus, if someone does get hold of your card number and make purchases illegally, they are spending "phantom money" rather than emptying your bank account.
4. Check your bank statements every month for fraudulent charges. Even small, unusual charges that might otherwise go overlooked can be red flags that someone is priming your credit card for a big old fraudulent shopping spree. Be vigilant, and don't wait for a huge jump in your balance before looking over your statements to make sure the charges listed are things you bought yourself!
5. Know your rights as a consumer of used goods. Caveat emptor ("let the buyer beware" in Latin) is always a good rule of thumb, and your recourse to sellers is more limited on used goods than on brand new ones. Because the rights of consumers vary on a state-by-state basis in the United States, you may need to contact a state agency to determine what protections, if any, you have when shopping for secondhand items such as used lift chairs recliners. One way to avoid getting burned is to do business with companies such as Amazon Marketplace and eBay that offer protective guarantees on purchases of used products from third-party vendors - but read the fine print carefully before you buy to see what limits are placed on those purchases and whether the product you're shopping for is covered by their refund policy or satisfaction guarantee.
6. NEVER give out information such as bank account and routing numbers, a social security number, or your date of birth to an online retailer or phone sales representative. The only thing most online shopping sites need to process your order is your name and billing address, your credit card number, and occasionally the CVV (a numeric code, usually made up of three digits, on the back of your credit card that verifies that you are the actual account holder when ordering). Revealing any of the above-mentioned information leaves you vulnerable to potential identity theft, so walk away if you are asked for that sort of data!
Everyone wants to get a great deal when seeking a used lift chair for sale. But just because you want the lowest price doesn't mean you shouldn't shop smart and protect yourself from fraud and identity theft. The best rule of thumb when shopping online, especially for used goods, is to walk away if the situation makes you uncomfortable; there's no such thing as being too cautious when it's your own hard-earned money or good credit rating on the line.