Golden Compass HD
*Non-Continental U.S. States & Territories - please call for shipping charges.
Product Description
The Golden Compass HD offers you a stable, center-wheel-drive platform and an articulating chassis for stability over tough terrain. A bigger, beefier version of the popular Compass Sport, the Compass HD has a 450 lb. weight capacity, yet a modest 20-inch turning radius. It comes standard with a captain's seat and our exclusive fold-flat seat hinge design for easy transport.

The Compass HD features front and rear height-adjustable seat posts, padded flip-up armrests, an easy-to-use sliding seat bracket and a fully adjustable footplate. With this lineup of features, the Golden Compass HD can take you to places you could only imagine!
*Golden FDA Class II Medical Devices are designed to aid individuals with mobility impairments
Product Specifications
Dynamic Shark, 75 Amp Programmable
How To Measure For A Power Wheelchair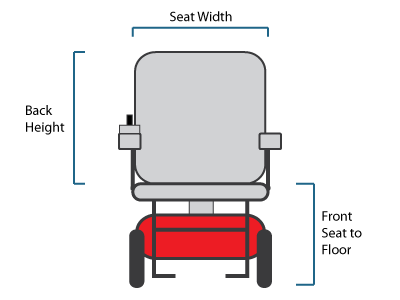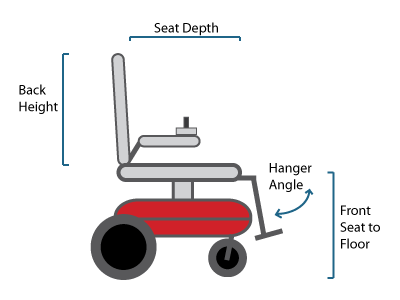 alt="Wheelchair Measuring Diagram - Side"/>
Seat Width: Measure the widest point of your body between the knees and hips. Add at least one inch- to this measurement for some extra breathing room. If you typically wear bulky or heavy clothing, such as during outdoor use in winter, you may wish to add two inches to this measurement to give yourself adequate room to move.
Back Height: This measurement will determine the distance from the seat base to the top of the wheelchair's seat back. Typically, you'll want to measure from the most posterior point of your body to the center point between your shoulder blades. Some users may prefer a higher back for added support, but remember that the higher the back of the chair is, the less room you'll have to rotate your upper body while seated.
Front Seat to Floor: Measure your leg from the back of your knee to the sole of your foot. Unless you are choosing a foot-propelled wheelchair, you will want to add two inches to this measurement to give yourself plenty of clearance for a footrest.
Seat Depth: Measure from the most posterior point of your body to the interior of your knee, deducting two inches from the total. You may require a greater amount of leg overhang to lift your legs during use; if so, consult your rehabilitation professional for guidance on adjusting your measurements accordingly, or speak with one of our power wheelchair specialists by dialing 1 (800) 794-9813 to get the right fit.
Hanger Angle: This measurement specifies how far your toes will extend from your body when seated, and is measured horizontally. The tighter your hanger angle, the less space you'll need to turn your wheelchair around. The flexibility of your legs and knees may also impact the hanger angle you will want to choose. Most wheelchairs have a hanger angle of about 70 degrees, and the farthest hanger angle available on any wheelchair is 60 degrees. Pediatric chairs have a hanger angle of 90 degrees to accommodate the shorter leg length of child users. A hanger angle is difficult for a wheelchair user to measure on their own, so we highly recommend calling one of our power wheelchair experts at 1 (800) 794-9813 to help you find a chair with the optimal hanger angle for your needs.
Customer Reviews

Its OK
Apr 8, 2017 10:06 AM
Butch

from

Lena,Il.

would not recommend this to a friend.
A Little About Myself
Retired college prof
Pros
Good looking unit
Cons
Arm & foot rest needs attention
Service & Delivery
White glove del. was on invoice but came street side del. and left for me to find a way to get it out of street into home and setup. Then we discovered no batteries or instruction book.
Arm supports not long enough to help in exiting chair!
USM
replies:
Sorry to hear this Butch. We are looking into the issue of white glove delivery not being performed.
14 of 19 people found this review helpful