Aging in Place Gracefully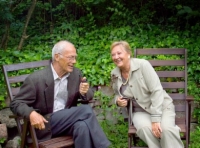 In modern times there is no need for seniors to move in with their children or to enter a nursing home as quickly as they used to. Today's innovations make aging in place much easier than ever before, and it's possible to remain independent much longer. There are several things that make this easier.
First, there is a lot of equipment geared toward seniors, including lift chairs, scooters, powerchairs, bath lifts, walk in bathtubs, stair lifts, and on and on. All of this is geared towards helping seniors remain mobile and independent longer, and engineered with affordability and comfort in mind. Many seniors feel that after a life of hard work, they are entitled to be comfortable in their later years. The rewards of a life of hard work can be enjoyed today without having to spend a life's savings on assisted living and overpriced equipment.
With the boomer population aging, demand has increased tremendously for these products and this demographic. That translates into more products being available for the baby boomer generation than ever before, and at lower prices. For a very reasonable amount of money, a person can remain mobile and independent well into their later years.
For instance, often renovations needed to be made to a house anyway, so it makes sense to replace the tub with a walk in bath tub, allowing a person to incorporate hydrotherapy into their lifestyle. This leads to relaxation of sore muscles and body aches, as well as a plethora of other health benefits.
Another example would be a mobility scooter or power chair. These chairs make moving around quite a bit easier, enabling a person to move freely through most locations. They're made to fit almost any vehicle, so it's not necessary to own a large van or truck to transport it easily. Vehicle lifts make it even easier, with many of them being electronic and doing the heavy lifting for the person.
Aging in place is a choice. It does not necessarily mean that one must do everything themselves. However, it does mean that a person may plan how it gets done, who they'd like to do it with and where they'd like it to happen. It means that they remain in control of their life in order to live it to the fullest in whatever way they see fit. And the more they know, the more gracefully they can do that.