call for special offers
& product assistance
$1,529.00
*Non-Continental U.S. States & Territories - please call for shipping charges.
Click Here to Submit Your Photos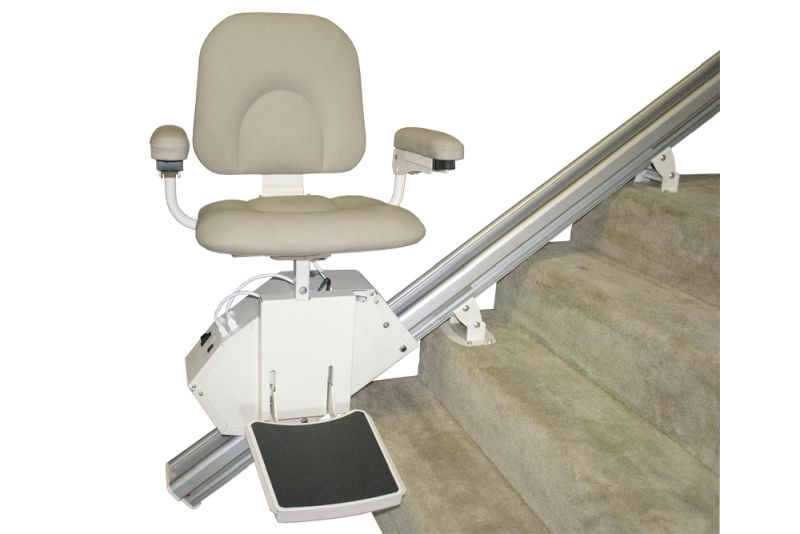 Certifications: If this product has one.
Product Description
With the AmeriGlide Rave Stair Lift-Used, anyone can afford to install a stair lift in their home and enjoy greater freedom and mobility. This incredibly affordable model is guaranteed to look and operate just like a new lift while saving you hundreds of dollars. You can rest assured knowing that every used stair lift thoroughly cleaned and repaired before being put back up for sale. We are so confident in the quality of our products and craftsmanship that even our used models come with an extensive warranty.
The Rave Stair Lift – Used represents the best in compact and efficient performance. This model comes with a long-lasting battery that can complete several trips even if your home loses power. Other standard features include a swivel seat for safe and easy dismounts, flip up seat and armrests, and easy to operate controls.
Want to learn more and find out whether the AmeriGlide Rave Stair Lift-Used is the right model for you? Call us today to speak with a stair lift expert who can answer all your questions.
Warranty
All pre-owned AmeriGlide stair lifts are covered by a 1 year parts-only warranty. Batteries are covered by a 30 day warranty
Product Specifications
Drive Type
Polymer Worm/ Worm-rack
Basic Installation Included
No
Max Track Length, Standard
7'
Max Track Length, Optional
70'
Constant Pressure Controls
Yes
Footrest Safety Sensor
Yes
Unit Footprint, In Use
22.5"
Unit Footprint, Parked
11"
Warranty
1 Year Parts Only
Call Stations Included
Optional - Depends on inventory available
Digital Diagnostics Display
No
Power Cord Lengths
10' with the charger box in the middle