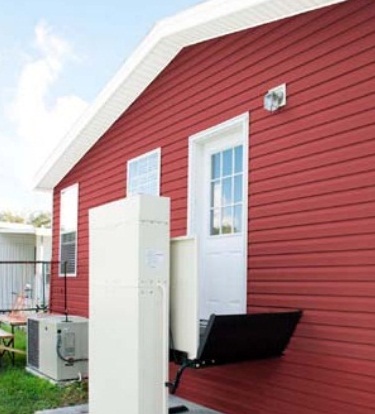 Residential Options: Currently, USM only offers one residential vertical platform lift: The AmeriGlide Hercules II Residential. This vertical platform lift supports weight loads up to 600 lbs. The default lift height for a standard Hercules II Residential is 53 inches (just short of 4.5 feet), but for an additional cost, it can be configured to reach heights up to 171 inches, or 14.25 feet. Similarly, the default platform size for the Hercules II Residential is 36" x 48" (3 feet by 4 feet), but if you require a larger platform, three larger optional sizes are available. The default size of the guard panel is 36 inches, but an optional 42-inch panel can be added.

The Hercules II Residential is normally configured for straight-through access, meaning that you enter one side of the lift at the bottom and exit on the opposite side at the top. However, optional configurations are available that allow you to enter and exit on the same side or to the left or right (as would be necessary if the lift is to be installed in a corner).

Commercial Options: Two commercial-grade vertical platform lifts are currently available through USM: The AmeriGlide Hercules II Commercial VPL and the Harmar Highlander Commercial VPL. The Hercules II Commercial lift model is largely identical to its residential counterpart, except that the standard platform size is 36" x 54" with two larger sizes available as options, and the default size of the guard panel is 42 inches. These features are different from the residential model in order to comply with codes governing commercial-grade vertical platform lifts as well as conditions required by the Americans with Disabilities Act to ensure user safety.

The Harmar Highlander has much in common with the Hercules II Commercial; the main difference is that the Highlander has a significantly higher weight capacity than the Hercules - it is capable of supporting up to 750 lbs. Also, if your lift configuration will require adjacent access for a corner installation, this option incurs an additional cost on the Highlander; there is no extra charge to configure a Hercules II Commercial for adjacent access.

Portable Solutions for Multiple Height Obstructions: As we discussed in Part 1 (Height), portable vertical platform lifts are an excellent alternative to installing multiple lifts if budget constraints prevent you from doing so and the height obstructions in question are less than 4.5 feet tall. This isn't just a good alternative for home users, though - it's also ideal for places of worship, community theaters, and convention centers that may need to help guests and members traverse height obstructions in various places in and around their buildings.