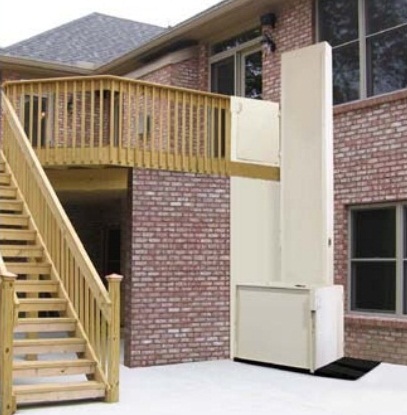 Height is perhaps the most important factor to consider when choosing a vertical lift. Think about the area or areas in and around your home that present height obstructions. Are they less than 4.5 feet in height? If so, a basic residential vertical lift such as the Hercules II will probably suit your needs.
In fact, if there are multiple obstructions and none of them are greater than 4.5 feet in height, you may want to consider purchasing a portable vertical lift. These units are more costly than their stationary counterparts, but this option is still more affordable if you have more than one stairway or porch you need to clear and you can easily roll a portable lift to each location.
More severe elevations, such as second-story entryways, will require greater lift heights, and in these situations a portable vertical lift simply will not suffice, since they max out at 52 inches. In these instances, we recommend the Hercules II Residential VPL, which can be customized to reach heights up to 14.25 feet.
Commercial proprietors who are seeking to improve accessibility to their places of business will probably want to opt for a Hercules II Commercial VPL, simply because the default options on the commercial model are set to make compliance with federal and state codes easier for both the installer and the business owner.