Golden LiteRider - 3 Wheel Travel Scooter

model: GL-110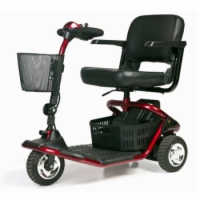 Click to enlarge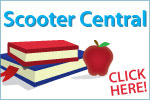 Call
(800) 794-9240
or click
to learn more about our special offers.
Your Price

$1,295.00

Regular Price

$2,139.00

*Non-Continental U.S. States & Territories - please call for shipping charges.

Warranty Info

Click Here



Golden's LiteRider GC-110 travel scooter gives you the power of a full-sized scooter, yet can still be disassembled for easy portability for when you're on the move. Fully adjustable armrests allow you to customize the height to fit your body and provide support, and the stadium seat guarantees you a comfortable ride. Easily steered with the built-in Delta tiller, the LiteRider also features an anti-rust steel frame and heavy duty plastic floor mat.
| | |
| --- | --- |
| Weight Capacity | 300 lb |
| Overall Length | 41.5" |
| Overall Width | 23.25" |
| Seat Depth | 16" |
| Seat Width | 17" |
| Per-Charge Range, Maximum | 9.5 mi |
| Maximum Speed | 5 mph |
| Turning Radius | 39" |
| Weight, without batteries | 96 lb |
| Weight, with batteries | 121 lb |
| Heaviest Piece Weight | 44 lb |
| Disassembly | 6 Pieces |
| Front Wheel Diameter | 9" |
| Rear Wheel Diameter | 9" |
| Ground Clearance | 2.5" |
| Tire Type | Solid, Low Profile |
| Battery Type | 2-18AH |
| Battery Weight | 25 lb |
| Battery Charger | Off Board |
| Goes In Reverse | Yes |
| Freewheel Mode | Yes |
| Tiller Style | Delta Tiller |
Shipping Info
Shipping Weight

153.0 pounds

Shipping Length

41.0 inches

Shipping Width

22.0 inches

Shipping Height

19.0 inches



Product Reviews
This scooter is so good, I bought a second one.

Jun 1, 2016 3:42 PM

Chip

from

Yuma, Arizona

would recommend this to a friend.

A Little About Myself

Amputee

Pros

The LiteRider has a nice battery pack. It's sturdy, solid, and well built. And it's quiet. They have a nice basket under the seat and the scooter now come with a headlight. The weight is comparable to other brands.

Cons

The brake doesn't always engage a quick as I would like, and the nose is too large/sticks out too far. It's easy to disengage the rear section by mistake because of the release lever location (it's right where you want to grab the scooter to lift).

Service & Delivery

My LiteRiders arrived 2 days after I ordered them. The batteries melted while being charged on my first scooter about 2 weeks after I bought it. Golden sent me a whole new battery pack, new batteries, and an new charger within a few days after I contacted them about the issue. That is the only time I have had to ask for service.

Prior to purchasing my first LiteRider, I owned 5 other scooters from the other major brand that were very similar in size and features. They were generally good scooters, but I like the LightRider better. The LiteRider is much quieter over time and I don't get the squeak from the seat due to Golden's seat mount design. The seat also sets higher for me, it can be adjusted lower if you want, I have longer legs and the height is more comfortable. The foam in the seat holds up better than my previous scooters, which would separate along the sides of the seat and create lumpy spots or pointy edges under the fabric. I also think the seat release design is better, it has a solid plastic tip that is molded in place and never slips off. The LiteRider is not as "flashy" as the other brand because there aren't any changeable color pieces. But there also aren't any pieces to get knocked off or fall off either. The deck plastic mounts from side to side and is vented, rather than solid and just in the middle. The other brand also had 2 ragged/sharp metal stubs (left over from welding during the manufacturing process) under the rear of the deck that would catch on the edge of my pickup tailgage or the bumper of my SUV as I was moving it out of the vehicle. This one does not and slides out smoothly, which I find to be much nicer and easier on my cars. The battery pack is much easier to handle because it's more compact and lighter (but the batteries themselves are still the heaviest part). The power indicator is a gauge with an indicator needle instead of a series of LED lights that go out as the power goes down. Battery life seems comparable to the other brand. The wheels are wider, making it easier to drive over soft surfaces like gravel and dirt. My newest LiteRider (purchased in February 2016) also has a headlight, which makes me more visible to traffic. The switch is located on the bottom side of the handle (there were no directions in my owners manual and I feel silly that it took a few days to finally realize were it was). The brake doesn't always engage as quick as I would like, but generally it works fine. But I haven't had the brake lockup either, and that was a problem I had with the other brand. The nose also hangs out the front of the scooter farther than I would like or think is necessary (but some may appreciate the space for your feet). The bolt on the tiller release stripped after a few months on my first LiteRider, but it was a standard size bolt and I was able to purchase a replacement at my local hardware store for under a dollar. If you grab in the wrong place on the rear of the scooter, the rear section will drop off (there is a warning label, but you will need to learn to be careful where you grab). Those are my only complaints. The LiteRider holds up better for me and works as well, if not better than the other brand I have bought. I had a few more issues with the other brand which were more significant, so I am very pleased with the LiteRider and plan to continue to buy them.

8 of 8 people found this review helpful
Perfect

Jul 30, 2012 11:25 AM

king of the road

from

Ocean Springs, MS

would recommend this to a friend.

A Little About Myself

85 years old 6 foot tall 218 lbs.

Pros

size, easy disasembly and reassembly, extra baskets

Cons
Service & Delivery

The only problem that I had is that I did not get any tracking information. The scooter was sitting on a dock in Mobile. I had to track it down. It took many phone calls to U. S. Medical Supply and the trucking company to get it set up for delivery

This scooter is perfect for travel. It is easy to assemble and disassemble. Takes less than 5 minutes. The scooter has a lot of power. I am a tall person and all the other travel scooters I tried were cramped. This one has excellent leg room and with the adjustable tiller you can create even more leg room. The extra basket gave me a place for my portable oxygen. This is the perfect scooter for a tall person.

75 of 77 people found this review helpful
Goldens literider GC-110

Aug 13, 2011 3:46 PM

Bill

from

La Mesa, CA

would recommend this to a friend.

A Little About Myself

78 year-old diabetic

Pros

It's a great mobility scooter!

Cons

None as of yet.

Service & Delivery

Service was outstanding. Delivery was prompt, as well as we dealt with a courteous delivery person.

Thank you

90 of 98 people found this review helpful