At Us Medical Supplies, we know firsthand how important it is for people with mobility issues to be able to maintain an independent lifestyle. No one wants to have to rely on others or struggle to get around their own home. That is why we are in the business of bringing mobility devices to our customers at a low price. Purchasing a chair lift recliner is one of the simplest and most affordable ways to increase your mobility and protect your independence. Lift chairs are specially designed to help you safely and easily rise out of your recliner with minimum strain.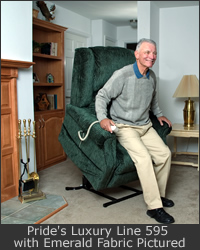 Electric lift chairs have been around since the 1980s. The first models were actually just modified recliners that were fitted with lift kits. These early models were fairly effective, but they lacked durability. It didn't take long before a mechanical breakdown landed the owner stuck in their chair again. Fortunately, lift chair technology has improved by leaps and bounds and modern lifting chairs feature long lasting electric lift mechanisms. Today's lift chairs are a perfect combination or form and function.
The concept behind a lift chair is simple, yet infinitely helpful to anyone who suffers from joint, balance, or strength issues. With the simple push of a button on the hand control, you can be gentley raised or lowered into a seated or standing position. Once you are securely seated in your chair, you can adjust your recline angle and/or extend your footrest till you find just the right resting position. The lift mechanism featured in our chairs can help you answer the door, retrieve a rining phone, and easily interact with your family and friends.
Here are just a couple customer testimonials that demonstrate how transformative a lift chair can be for anyone who suffers from mobility issues:
Kathy from Pennsylvania wrote, "It makes it so much easier for my Dad to get in and out of the chair and I don't have to worry about him falling. I'd recommend it to anyone in need of a chair lift for seniors."
Sandra Cain from Texas shared, "I am truly enjoying my recently purchased chair lift recliner. I had been confined mostly to my bed because I have rheumatoid arthritis and could not stand up without the help of someone strong enough to pull me up to my feet. My new lift chair lifts me up gently to a full standing position so that I can then use my walker. I can now spend time in my living room watching TV or visiting with friends and family members. A chair that helps you stand up is very helpful, and the price is right, too."
Lift chairs can make an immediate difference for physically disabled people and their families. Lift chair prices start at about $400. Medicare or a private insurance plan may pay part of the cost. To begin selecting a chair lift for seniors and disabled people, simply call our product experts at 1 (800) 790-5104 now.
Free Shipping on Lift Chairs!*
Free 1 Year In-Home Parts & Labor!**